Support Unit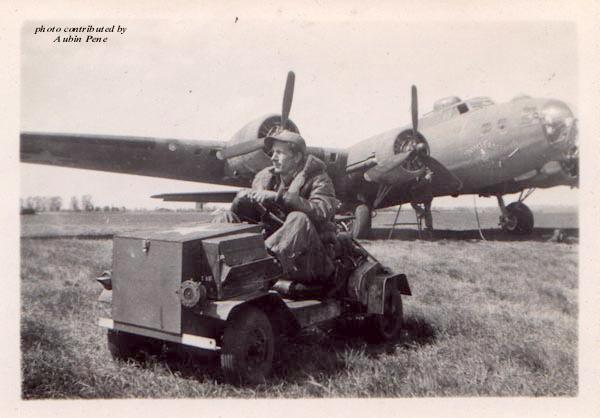 M/Sgt. Hank Cordes, Crew Chief, of Shoo Shoo Baby on a "CREEP" built by a group of 401st airmen. The B-17 in the background is "Passes Canceled."
In June 1943, the following article was written in the Stars and Stripes by Sgt. Henry Heuberger.
Home Made Gadget Keeps 'em Flying
Ground Crew Builds "Creep" To Cut Bombers Service Time
A USAAF Bomber Station, England, May 1, 1943
Ground crew trouble shooters on this field have built themselves a gadget they call a "Creep" which has cut hours off the time formerly required to keep planes in flying order." Self-powered, the "Creep" skids around at 35 miles per hours, enabling her operators to get to any part of the dispersal area in short order. The "creep," with a fuel capacity of three pints, gets 60 miles on a gallon of gas. Once alongside the plane, the instruments and equipment carried by the "creep" enable her operators to do any of the following: check booster coils, run drop cords to a plane, furnish power for soldering irons, check ignition harnesses and high altitude heating suits, check the entire instrument panel or even furnish auxillary power for starting a balky engine on a plane. Powered by a one-cylinder energized motor, the "creep" has two wheel brakes, a self-starter, a blast horn, a self-starting generator, a directional signal arm, electric head and stoplights and two leather upholstered seats. Desingers and builders of the "creep," who produced their salvage masterpiece in two weeks of after hours work are: T/Sgt. Gerald Rothermel (McLean, Illinois), S/Sgt. Thomas Sharpe (Nicholsville, Kentucky), Sgt. James Duncan (Hillsboro, Tennessee), Sgt. Robert Martin (Jamestown, New York), Cpl. Arthur Thomson (Los Angeles, California), Cpl. Alfred Ciarimboli (Newberg, New York), and Cpl. Charles Codyer (Waltham, Massachusetts). As a concession to English custom the gadget was built with a right-hand drive, clutch on the right and brakes on the left; but the license plates read "USA."
Footnote; It also had room to carry spare parts and tools for mechanical work on the planes, saving many, many man hours to "keep 'em flying." All builders are 401st Squadron members.
Photo contributed by Aubin Pene
© COPYRIGHT 91STBOMBGROUP.COM