Support Unit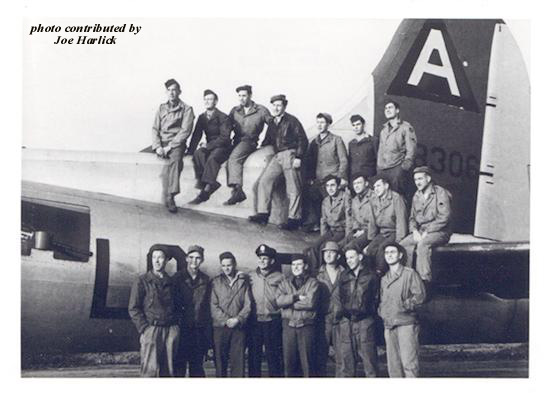 91st Bomb Group Photo Unit
Background - The Biggest Bird S/N 338306 LG-B
Top Row (L to R): F. Bynum, Ed Carpenter, Don Caldwell, Clyde Rhodes, Ed Schultz, Bill Pulliam, Bill Lyons.
Center Row (L to R): Jack Fairheller, Jack Palmer, William Calvin, Kenneth Criswell.
Standing (L to R): Phillip Brown, Charles A. Bowers, Jr., Ted Webb, Captain Ray (Photo Officer), Leonard Cook (Lab Chief), Bill Remsen, Joe Harlick, Irv Brukman, (Missing, Gerald Massie - re-assigned to SHAAF headquarters as full time Photographer for General Ike). This working group represented home towns in 13 states.
Photo contributed by L.A. Ingignoli
Submitted by Joseph Harlick
The original unit consisted of: 1 officer in charge,
ooooooooooooooo
000000000000000
© COPYRIGHT 91STBOMBGROUP.COM