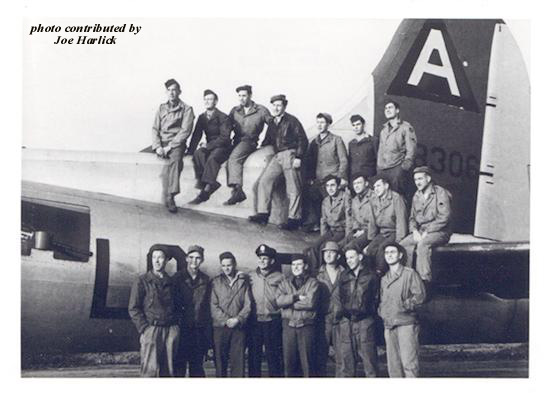 91st Bomb Group Photo Unit
Background - The Biggest Bird S/N 338306 LG.-B
Top Row (L to R)
F. Bynum, Ed Carpenter, Don Caldwell, Clyde Rhodes, Ed Schultz, Bill Pulliam, Bill Lyons.
Center row (L to R)
Jack Fairheller, Jack Palmer, William Calvin, Kenneth Criswell
Standing (L to R)
Philip Brown, Charles A. Bowers, Jr., Ted Webb, Captain Ray (Photo Officer), Leonard Cook (Lab Chief), Bill Remsen, Joe Harlick, Irv Brukman, (Missing, Gerald Massie - re-assigned to SHAAF headquarters as full time Photographer for General Ike). This working group represented home towns in 13 states.
Submitted by Joseph Harlick
The original unit consist of: 1 officer in charge, 1 photo lab chief, with 2 members of each of the 4 squadrons. Totaling nine members that went to England by ship in 1942. In May 1943, the group was increased to 4 members per squadron and 2 from the service squadron. I personally was attached to the 324th Squadron in May 1943. Since my specialized training included camera repair, the responsibility of maintaining the strike cameras, became my primary assignment.
A central building, which housed the Photo Lab was a masonry building located between hangers B and C. We shared the building with the Armament Unit. They are the ground crew that loaded the bombs. The Photo Lab was upstairs, with a couple small rooms for beds, including the Lab Chief and the Photo Officer. Most Photo personal were located in other near-by barracks. The high bay area was formerly an R.A.F. bomb sight trainer, the lower part of this area was for camera storage and repair. Since all of our American lab equipment was powered with 110 volt A.C., the British supplied us with a 220 volt transformer (standard power for England) to break it down to 110 volts. Temporary wiring was stretched to all locations in the photo lab as necessary.
Our prime objective was for bomb strike photographs, but there were thousands of other pictures made with hand held camera's of the base activities. Such as: battle damage after a mission, flight crew group shots, individual flight crew fake passport photos (in civilian clothes), nose art on the planes, visiting dignitaries which included; Royalty, high ranking Generals, or movie celebrities and USO performers. Someone was always on standby with a camera for accidents. Also, many record shots of G.I.'s at work, public relations, general humor or novelty incidents. Many times at 1:00 AM we would be given a photograph of the next days target to copy and prints were made for handouts at the briefing, miscellaneous events covered were, weddings, base dances, 25th or 35th missions completion events, our second year anniversary, 300th mission open house, and of course the most important, VICTORY IN EUROPE day announcement. All of the film processing was in black and white, (except one roll of experimental color film sent to us by Eastman Kodak Co.). With a shortage of 4 x5 cut film, I designed a film splitter from some rollers and razor blades. We saved the unexposed ends of 9 1/2 inch wide aerial film and split it into 4 inch widths then cut them into 5 inch lengths (in the dark of course). This also worked great for my personal 120 size roll film camera. I carried my own folder camera everywhere. We also had several loan type (hand carry) cameras. The K-20 was a hand held 4 x 5 inch roll film camera, also a Bell & Howell Film 16 MM camera and a Kodak Cine 16 MM camera. There were no 16 MM gun sight cameras mounted on the 50 caliber machine guns. We lost 86 strike and hand held cameras in combat before the "D" Day landings.
The main purposes of the Photo unit was to bring back Strike Photographs taken during the bomb runs over enemy targets. At least one third of the Flying Fortresses on each mission were assigned from Headquarters to carry a strike camera. It was usually 1:00 AM or later before we would receive this information on the day of the proposed mission. The Strike Camera would be mounted in the Camera pit under the Radio room floor and have the shutter and "f" stop preset. The intervalometer was set to take an exposure every 6 seconds, from the time of bomb release until well after their impact, then rewind the film. The cameras were of different size and description, The British F-24 was 12 volt powered (5 1/2 x 5 1/2 inch negative size). Later there was an American K-24 with 24 volt bower and same size negative. Other American cameras were the K-21 (5 x 7 inch negative size), K-17 (9 1/2 x 9 1/2 inch negative size, K-22 (9 1/2 x 9 1/2 negative size). Various lenses were used, from 6 inch to 24 inch focal lengths. When a camera was installed, the doors on the bottom of the plane were locked open, thus exposing the camera to all the weather conditions encountered during a mission.
Since members of the Photo Unit were not compelled to fly, nor receiving flight pay, a method had to be found to turn on the Strike cameras as the bombs were released and off after the bomb run. This turned out to be a challenge. For that reason, many of the Photo personnel flew some missions as volunteers. Our first Photo officer, Lt. Oakley did not return for one of these missions. He flew on "Vulgar Virgin" s/n 42-29642 and went down over Meaulte, France and was killed in action. After that happened, we were ordered not to fly. (We would be classified as a stowaway, when we did fly). Since Photographers were not there to turn on the Strike cameras, a switch was installed for the Radio Gunner to turn on and off. This didn't work to well though. If he was busy with the radio or manning his 50 caliber machine gun, the camera was forgotten, resulting in no photographs. We took this problem seriously, we were instructed that if we failed to get Photographs of the target area on the bomb run, that the group would not receive credit for the mission.
Additional camera problems were encountered. The outside temperature would drop as low as 60 degrees below zero. The film would get brittle and break of jamb. Or the lens would frost over with ice, resulting in no photographs. To conquer some of these problems, we used Yankee ingenuity. The bomb sights had 24 volt heater muffs, which could be plugged into the power supply, why not camera muffs. A muff was designed for each model camera and slipped over the film magazine, and plugged into the 24 volt power supply. protective filters were attached to the lenses with heater wires between the lenses. This pretty well took care of the freezing problems, but we still couldn't rely on any of the personnel aboard to turn the strike camera on and off. After studying the wiring diagram in the B-17, I discovered a delay relay in the bomb circuit. By hooking the camera into this agastat it worked well on the ground, but altitude and temperatures affected the pneumatic delay here also. It still was not 100% reliable. Finally I came up with a fool proof switch. I called it my "Mouse Trap Switch". It turned the strike camera on positively when the first bomb falls out of the bomb bay. For inventing this switch, I was awarded a Certificate of Merit from the 8th Air Force. (No raise in pay though). now each camera had a micro switch installed in the film magazine that would turn it off when the film ran out. The larger cameras has an intervalometer that could be preset for a certain number of exposures than shut off. In order to save film, we would re-roll in the darkroom and cut the roll of film into half or thirds, depending on the length of the roll of film. This solved about 95% of our strike camera problems.
Members of the Photo Unit would meet the returning bombers as they landed and before the crew had all their belongings out of the plane, we would have the camera or film magazine removed and whisked back to the lab for processing. The floor of the radio room was the only piece of flat flooring the B-17 and with the two doors and the top hatch closed, it also the warmest. Therefore all wounded personnel, if possible, were brought to this area. Since our strike cameras were in the pit below this floor, we have many unforgettable bloody scenes of that area forever implanted in our memories.
Wet prints would be made from wet negatives and by the time the crews arrived for interrogation, we would have prints showing the results of the mission. This gave first hand information, it identified the target, gave them weather conditions, and with 6 seconds intervals between exposures, it showed individual bomb explosions. They actually would poke pins in the photo for each explosion until the target would be covered with smoke. This way, an immediate estimate of damage could be made. Finished prints were made form each roll, hand lettered, and delivered to First Division Headquarters every night after the mission.
The camera's could not photograph through solid layers of clouds however. When airborne radar was introduced for bombing targets, we began researching some way to record the image off of a radar scope. I modified a K-24 Aerial camera into a scope camera. The lens cone had to be changed to a short focus, and a one second time exposure had to be made. The time exposures was synchronized with a single sweep of the scanner. We still used the 9 second interval between the time exposures, but now produced a scope picture of the target. The scope camera became a permanent installation on the radar ships. (Pathfinders)
As for working hours, we didn't punch a clock. If there was work to do, we stayed with it until completed. Many times I worked of 30 hours straight, a few hours sleep, then our planes would return from a mission and we would all be back at it. Captain Ray actually ordered me to bed one time. The Strike cameras would receive new loads of film as soon as they were checked mechanically, usually about midnight. It would be 1:00 AM before we would get the information on the target for next mission. Headquarters would give me the flight plan and serial numbers of the Flying Fortress's designated to carry Strike cameras. Certain camera's would be designated for each plane, for whom ever was on the loading crew for that night.
At Bassingbourn, the B-17's were well dispersed in case of a German air raid, to prevent major losses in case of strafing or bombing. We would have to find the designated B-17 in the dark, and usually in fog, over a 7 mile perimeter on the base. Many times we would get lost just trying to cross the runway. Because of blackout rules, we had only a 2 inch slit of light from our headlights on our 4 x 4 truck. You would have to be within a few yards of the plane before it was possible to see the serial number on the tail with a flash light. At 3:00 AM it would be a bee hive of activity. The planes were being loaded with bombs, high octane gasoline, oxygen, cameras, gun barrels and ammunition, life saving gear, all at the same time. Also last minute repairs on the engines, radios, navigation equipment, and cleaning windows. The Norden Bomb Sight was the last item to be loaded in the lead planes, just before take off.
There was danger lurking at every B-17 during the black of night. Some had props spinning with last minute mechanical checks. With high octane gasoline vapors and oxygen present, any lighted match, cigarette, or spark could ignite a disaster. The armament personnel handling bombs, fused, and ammunition had the responsibility of not making a mistake. One mistake could blow up the whole area. This happened on a near by base, killing 18, injuring 39 and destroying 7 planes. With ground personnel coming and going all hours of the night, every one had to work with caution and know their particular job.
Bullets win battles, but Photographs win wars. Photographs are both beautiful and
terrible. They echo with the best and the worst of our War Time History. Reading about
an Air Battle can tell us what happened then, but only those who stood there can re-live
that moment. I hope we are remembered for the photographic record we have made.