Photo History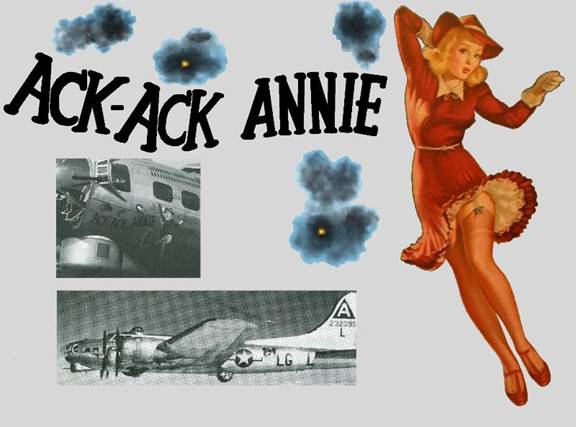 Someone in England scanned the right deck of cards to match this one up. Tony Starcer used the Gil Elvgren, "Caught in the Draft," as the subject for this nose art. I've read this aircraft survived the war with 143 missions to her credit. Bob Barr M/Sgt, PA Air National Guard
The crew that named Ack Ack Annie was:
Bud Laedtke, Pilot - Died Aug. 24 2003
Bob Gerber, Co-Pilot - Vancouver, WA Completed 33 missions
Willis Lebo, Navigator - Killed later in pilot training.
Phil Goldman, later Phil Gail, Bombardier - Died 2003
Tom Ryan, Top Turret, Engineer - was last living in Oklahoma.
Felix Schmitt, Radio - No information.
Hershel Rutherford, Right Waist Gunner - from Texas - No other information.
Henry, Hank, Hall, Left Waist Gunner - Fat and happy living in Cayucos, California.
Lorcey Sonniier,Tail Gunner - Living in Maurice, Louisiana.
Dale Maginness, Ball Turret Gunner - Living in Independence, Missouri.
Hank Hall 9-3-2005
© COPYRIGHT 91STBOMBGROUP.COM