Propeller Memorial, Bassingbourn, England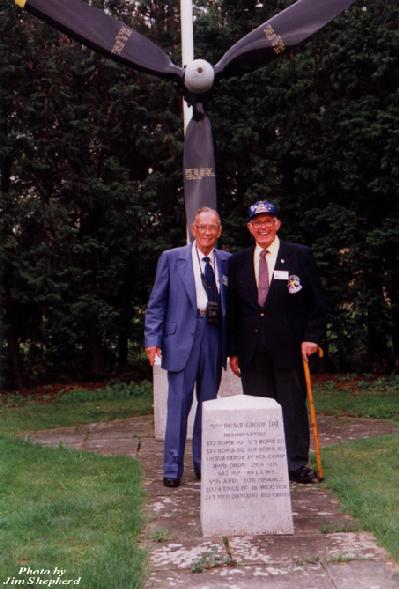 (Above) Wayne "Tex" Frye & A. J. Sinibaldo (323rd Squadron) at Prop Memorial - 1992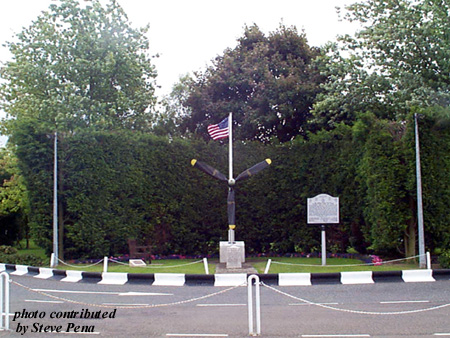 (Above) Photo of Prop Memorial - 1999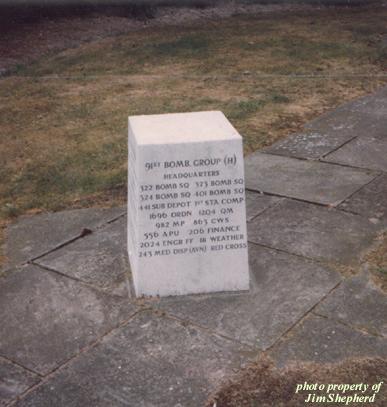 (Avove) Close-up photo of Memorial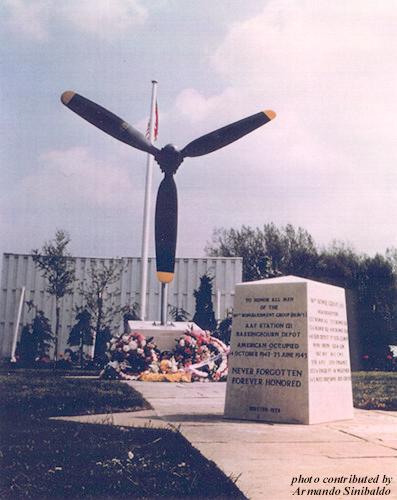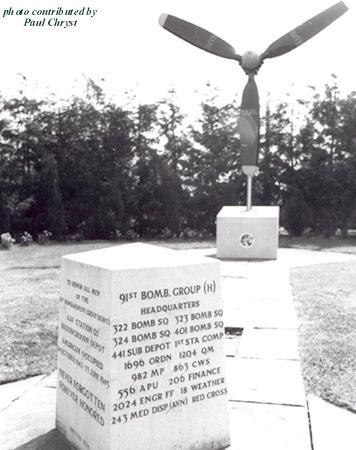 Background of 91st Bomb Group Prop Memorial
It was first discussed by General Wray, Lt Col Paul Chryst and David Crow in 1969 at Bassingbourn. Several designs were forwarded to Gen Wray by Paul Chryst and David Crow over the next few years. The General requested that a B-17 propeller would be the centerpiece of the Memorial. The question of the propeller was the main hold up for the memorial dedication. It took nearly 10 years to find a suitable B-17 propeller. A very good friend of David Crow's, Sqn Ldr Monty Burton, having retired from the Royal Air Force, embarked on a career with Hunting Surveys on aerial mapping in the Third World. He flew C-47s (Dakota) for that company and promised David that if ever he found a B-17 propeller he would acquire it and have it flown to England.
In 1976 a propeller was found on a wrecked B-17 in the Sudan. Monty acquired it and flew it to England in the Dakota . He presented it to David to have it completely refurbished as the centerpiece of the Prop Memorial. The angle of the propeller on the Memorial is exactly the same height and angle as it would be on a B-17. The pole holding the propeller is a stainless steel tube inserted into a massive concrete block and into the ground. Inside the stainless steel sleeve is a solid piece of steel to enable the weight and angle to be supported for the propeller.
This was completed by an engineering company in Cambridge. Messrs Ivett and Reed were the stone masons who prepared the base and had the squadron badges hand painted. They lasted until early 2010 when they were replaced by ceramic plaques, again by Ivett and Reed.
The Memorial was dedicated in 1978 with General Wray and many veterans present.
The conifer surrounds at the Memorial site were donated by the British Army and planted by Col Hugh Lohan who was the CO at that time and David Crow. The US flag has always been donated, either by 91st veterans over the years until recently when a new flag was provided by the UK Friends of the 91st (Peter Worthy and Vince Hemmings).
© COPYRIGHT 91STBOMBGROUP.COM