Texas Bronco
323rd Squadron
1st Lt. Ellis' Crew

Makin' Whoopee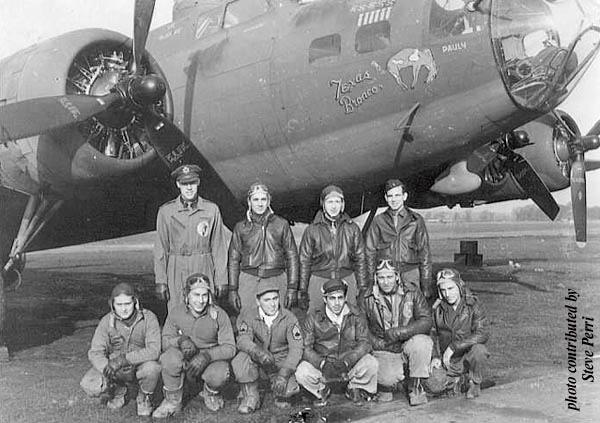 Serial # 41-24589
Back Row - Left to Right
1st Lt. Eugene B. Ellis, Pilot (POW, Brownfield, TX); 2nd Lt. Kenneth H. Futch, Co-Pilot (POW, Irving, TX); 1st Lt. Howard M. Dunham, Navigator (POW, Kalamazoo, MI); 1st Lt. Marvin H. Beiseker, Bombardier (KIA, Dallas, TX).
Front Row - Left to Right
S/Sgt. Nathan L. Floyd, Ball Turret Gunner (POW, Shelby, NC); S/Sgt. William E. Howard, Tail Gunner (POW, New Boston, MI); T/Sgt. Rodney E. Demars, Waist Gunner (POW, Norwell, MA); S/Sgt. Anthony Gaeta, Top Turret Gunner (POW, Binghamton, NY); Sgt. Joseph L. Mastrobaradino, Radio Operator (POW, Astoria, NY); S/Sgt. Michael T. La Medica, Jr., Waist Gunner (KIA, Brooklyn, NY).
Photo contributed by Steve Perri
Texas Bronco Factoid - The crew of the Texas Bronco was one of the 9 original B-17 crews in the 91st Bomb Group (H) 323rd Squadron that flew from Dow Field, Maine in September 1942. Texas Bronco was the first B-17 that crashed in Holland during the war (4 February 1943).
© COPYRIGHT 91STBOMBGROUP.COM