Spirit of '44
322nd Squadron
1st Lt. Eldridge Greer's Crew

Blue and Sentimental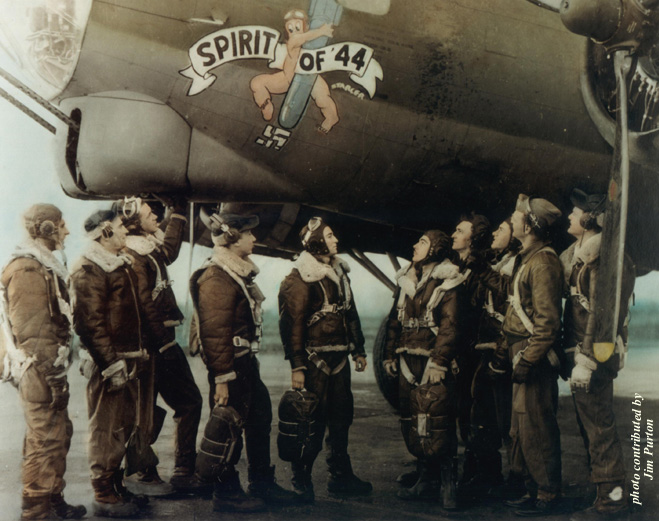 Serial # 42-37940 LG
Left to Right
T/Sgt. Robert Mueller, Tail Gunner; 2nd . Lt. William D. Wood, Co-pilot; 1st Lt. Marvin D. Anderson, Navigator; T/Sgt. James. E. Purton, Right Waist Gunner; T/Sgt. Woodrow Wade, Left Waist Gunner; T/Sgt. Oscar Mouton, Ball Turret Gunner; T/Sgt. Casmir Lekowski, Top Turret Gunner; 1st Lt. L. R. Dobbs, Bombardier; 1st Lt. Eldridge Greer, Pilot; T/Sgt. Garner Walters, Radio Operator/Gunner.
Photo contributed by Jim Purton
The above photo was hand colored recently by Tony Evans, a professional photographer from Edina, Minnesota.
Spirit of '44 Factoid and Story - It was Cpl. Tony Starcer who did the nose art on this plane. His name can clearly be seen under the banner in the artwork.
The plane was christened on or about New Year's Day, 1944 and was assigned to Lt. Greer and his crew. It only flew six missions prior to being damaged so heavily that it had to be scrapped - but not before it brought its crew home safely.
On its sixth and final mission, "Spirit of '44" went out to bomb Oschersleben's Focke-Wulf plant on 11 Jan. 44. With two engines out of commission due to enemy fire, the Flying Fortress was returning home after the bomb run but couldn't keep up with the formation. Flying at low levels to avoid German anti-aircraft guns, the B-17 flew precariously for nearly 90 minutes over German territory, sometimes at or below treetop level. Lt. Greer flew the Fortress down the main streets of towns so as to cause the chasing Luftwaffe planes to have to shoot in the direction of their own people in order to shoot at the B-17. On several occasions the crew prepared to ditch, however, tossing whatever they could find overboard to lighten the load helped to get the heavily damaged bomber to the base at Shipman, England. There, the plane was found to have at least 250 bullet holes in it as well as having an 18-inch hole in the radio room and the plexiglas nose shot out.
The "Spirit of '44" was declared to be damaged beyond repair after that mission and was scrapped. Greer's crew went on to fly another 16 missions before they were shot down on Feb. 22, 1944 in another Flying Fortress known as "Boston Bombshell." That mission is another story!
Lt. Greer published an excellent article in the July 1944 issue of "FLYING ACES" Magazine giving his account of the Oschersleben mission. By that time the rest of his crew had been shot down and captured by the Germans. Two of the crew were killed in the crash landing of "Boston Bombshell."
Thanks to Jim Purton for the photo and the great information.
© COPYRIGHT 91STBOMBGROUP.COM