Slane's Crew (Vagabond Lady)
401st Squadron

C Jam Blues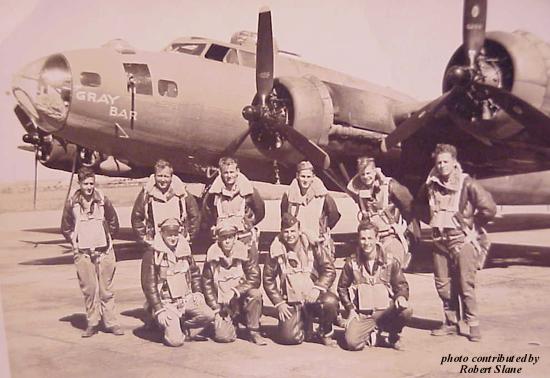 Serial # 425714
Back Row - Left to Right
S/Sgt. Victor H. Kuhlman, Radio Operator; Charles Groth, Right Waist Gunner; Sgt. Claud J. Smith (KIA), Tail Gunner; S/Sgt. Sherman W. Sly, Engineer/Gunner; S/Sgt. Louis L. Brown, Ball Turret Gunner; S/Sgt. Robert L. Soloman, Left Waist Gunner.
Front Row - Left to Right
Arthur G. Foster, Navigator; Robert M. Slane, Pilot; Joseph A. Johnson, Co-pilot; William C. Runner, Bombardier.
Photo contributed by Robert Slane
Slane's Crew / Vagabond Lady Factoid - When this crew arrived at Bassingbourn, they were assigned a new arriving B-17 (42-37742) and the crew named it "Vagabond Lady." This crew was shot down in an unnamed B-17, serial number 42-5714, on return from their 4th mission to Germany, 14 October 1943, and crash landed in France. "Vagabond Lady" was lost due to enemy action on 3 November 1943 and the pilot was 2nd Lt. William B. McAdams. The photograph was taken at Pendleton, Oregon in August 1943 prior to their trip to Grand Island, Nebraska where they picked up a new plane for the flight to England. There is no indication that "Gray Bar" ever left the states.
© COPYRIGHT 91STBOMBGROUP.COM