Shirley Jean
324th Squadron and 323rd Squadron
Lt. Lindahl's crew

Caravan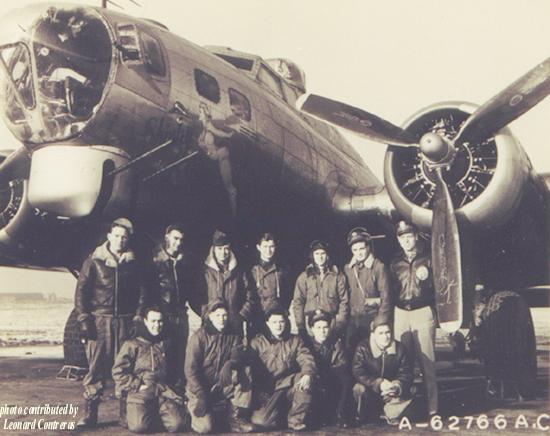 Serial # 42-107040 DF-D - OR-K
Back Row - Left to Right
Willis Burrage (Asst. Crew Chief); Unknown; Sgt. Doyle E. Humphrey, Engineer/Top Turret Gunner (Idabel, Oklahoma), Unknown; Unknown; Lt. John Lindahl, Pilot; Lt. Anthony A. Japak, Bombardier (Donora, Pennsylvania).
Front Row - Left to Right
Sgt. Raymond E. Bisson, Radio Operator (Barre, Vermont); Sgt. Gladyes (Jack) Wallace, Waist Gunner (Hayward, California); Sgt. Michael Fenchalk, Tail Gunner (Newcastle, Pennsylvania); Unknown; Unknown
Photo contributed by Leonard Contreras
Shirley Jean Factoid - Shirley Jean was a B-17G (DF D) and was named after the crew chief's two daughters. The nose art was painted by Tony Starcer and was taken from Esquire's Vargas Girl Calendar, August 1943. She flew 7 combat sorties with the 324th, was transferred to the 323rd for a few missions, then came back to the 324th in the latter part of July 1944. Shirley Jean survived the war with the 91st BG with a total of 98 missions during 18 months of combat. Her last mission was on March 8, 1945, which was approximately six weeks before the 91st Group's last mission. Crewman Bert Larson's uncle, Halmar Larson, created a beautiful orange flowered rhododendron and he named it Shirley Jean to honor his nephew Bert Larson. He sent it to England where it's now growing in the Queen's garden.
According to Ann Burrage (daughter of Willis Burrage), when her father arrived in England there were only 7 B-17s in the squadron. Within 3 months, the squadron grew to 14 planes and Willis was promoted to Crew Chief on the Lady Luck.
© COPYRIGHT 91STBOMBGROUP.COM