Ritzy Blitz
324th Squadron
Lt. Hedglin's Crew

On the Sunny Side of the Street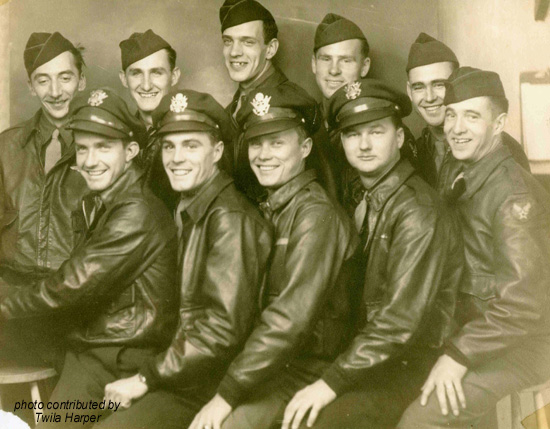 Serial # 42-29657 OR X
42-29487
Back Row - Left to Right
Sgt. James Lascu, Jr., Radio Operator (KIA); Sgt. Stanley E. Lyttle, Tail Gunner (KIA); Sgt. Walter F. Williams, Jr., Waist Gunner (POW); Sgt. William O. Francisco, Waist Gunner (POW); Sgt. George M. Richardson, Ball Turret Gunner (KIA)
Front Row - Left to Right
2nd Lt. Carey E. Goodwin, Jr., Navigator (POW); 2nd Lt. Donald W. Jones, Co-pilot (POW); 2nd Lt. Wayne D. Hedglin, Pilot (POW); 2nd Lt. John W. McKewen, Jr., Bombardier (KIA); Sgt. Cody L. Wolf, TR (KIA)
Photo contributed by Twila Harper
Ritzy Blitz Factoid - Ritzy Blitz went MIA on 11 January 1944 during the Oschersleben Raid. Twila Harper supplied the photograph of the crew. She is the half sister of Sgt. Stanley Lyttle, who was the Tail Gunner on Ritzy Blitz.
From an email from Margaret Ann Wolf Harris (December 2013), daughter of Sgt. Cody Wolf:
Thank you for posting the names of the crew of Ritzy Blitz and the picture of their plane. I thought that you might be interested in this. My father, Cody Wolf, spoke on a radio broadcast from England on Christmas Day 1943. The broadcast was the idea of the Baltimore Sunpaper and they produced it. My father was killed in action on Jan. 11, 1944. The Baltimore Sunpaper just found the records of the broadcast and had them transcribed. The show rebroadcast on Dec. 20 and again on Christmas Eve this year. I was 17 months old when he was killed in action, so, to me, this is the first time that I heard his voice and heard him say my name. It was a wonderful Christmas present for all of my family. You can listen to it and see all of the background work that the Sunpaper completed. My father speaks during the second part around 7 min. 20 seconds. The entire site is just a wonderful piece of history.
Here is the link to the Sunpapers Christmas Show recorded Christmas Day 1943
Here is the link to Margaret's story in the Baltimore Sun
© COPYRIGHT 91STBOMBGROUP.COM