Ramblin Rebel
323rd Squadron
Lt. Pickard's Crew

'C' Jam Blues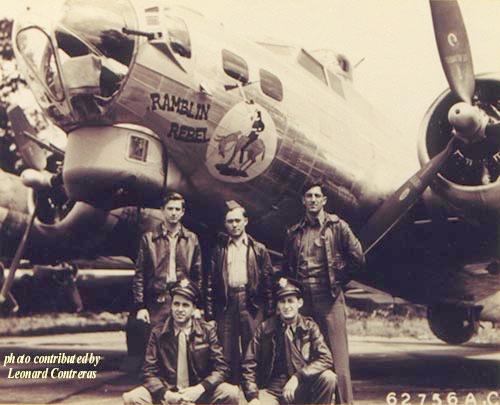 Serial # 43-37540 OR B/Z
Back Row - Left to Right
Sgt. Perry ("Squeaky") Wofford, assistant AEG and Waist Gunner (Fresno, CA); T/Sgt. Edmund Crafton, Radio Operator (Portageville, MO); Sgt. Wayne ("Stormy") Wrightsman, Flight Engineer.
Front Row - Left to Right
Bascom P. ("Smitty") Smith, Co-pilot (from NC); 1st Lt. Walter M. Pickard, Pilot (Luverne, AL)
Photo contributed by Leonard Contreras
Ramblin Rebel Factoid - Thank you to Col Walter M. Pickard's daughter, Martha Pickard Zink, for supplying the airmen's names above. Col Pickard published his memoirs before he died in the book, The God's Smiled. The crew went down in the North Sea 03 MARCH 1944 in "My Desire," Serial #237965. According to Col Pickard's daughter, tragically five of the crewmen perished of hypothermia before they were resuced.
© COPYRIGHT 91STBOMBGROUP.COM