Invasion 2nd
401st Squadron
Capt. Oneill's Crew

Chattanooga Choo Choo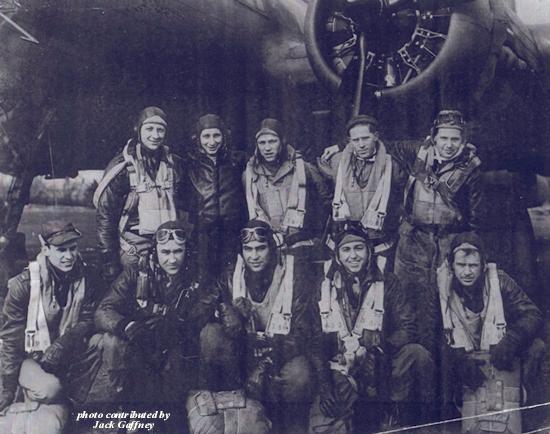 Serial #42-5070 LL A
Back Row - Left to Right
Charles Melchiando, Radio Operator; T/Sgt. Harry Goldstein, Top Turret Gunner & Engineer; T/Sgt. Donald King, Left Waist Gunner; T/Sgt. Benedict "Benny" Borostowski, Tail Gunner; T/Sgt. Eldon Lapp, Right Waist Gunner
Front Row - Left to Right
1st Lt. Robert Freihofer, Co-pilot; Capt. Edwin M. Carmichael, Group Navigator; Capt. Oscar O'Neill, Pilot; Lt. Eddie Bush, Bombardier; T/Sgt. Aaron S. "Pappy" Youell, Tail Gunner
Photo contributed by Jack Gaffney
Invasion 2nd Factoid - The aircraft was a B-17F and its markings were LL A. The aircraft was assigned to the Group on 14 December 1942. Its first combat mission was on 20 December 1942 and the pilot was Major E.P. Meyers, who was the squadron commander. On 30 December 1942, Capt. Oscar O'Neill was the pilot and Major Meyers was the co-pilot. During that mission, Major Meyers was killed by German 20mm fire from fighters. The crew was shot down by German flak over Borhmen on their 23rd mission and becam POWs.
More info on Invasion 2nd - Boeing B-17F-30-BO Flying Fortress "Invasion 2nd" (42-5070) of the 8th Air Force, 91st Bombardment Group, 401st Bombardment Squadron. In the waist gunner positions are S/Sgt. Eldon R. Lapp of Fort Wayne, Indiana (17 May 1920 - 2 October 2001) and S/Sgt. William D. Kinig (18 January 1923 - 30 August 1952 of Imperial, Texas operating the Browning .50 caliber (12.7 mm) machine guns for a Signal Corps photographer. It's likely this photo was made as part of Major William Wyler's efforts to document B-17 operation; when "Invasion 2nd" was shot down, he focused on the "Memphis Belle" which became very famous in "The Memphis Belle: A Story of a Flying Fortress" a 1943 documentary. Note the still prop in the right window; "Invasion 2nd" was on the ground in Bassingbourn, England at the time of the photo. M/Sgt. Jack Gaffney, a member of the crew, painted the nose art on "Invasion 2nd" and several other aircraft. The waist gunners in B-17Fs could collide with each other during combat, disrupting their oxygen supply. This was corrected with staggered waist gun positions on the B-17G. On 17 April 1943, "Invasion 2nd" was shot down near Oldenburg, Germany on a bombing run on the Focke-Wulf factory in Bremen. "Invasion 2nd" formed the lead plan of the first element of six aircraft making up the lowest squadron. Taking flak hits and attacks by German fighters over the target, the number two engine was completely shot away. The left wing caught on fire and spread to the fuselage. Capt. Oscar D. O'Neill called for the crew to bail out but Lapp and King were prevented from leaving by a stuck escape hatch. The ball turret gunner, T/Sgt. Benedict B. Borostowski, came up into the fuselage from the ball turret and went to the partly open waist door. He found Lapp and King unable to force the door and used his foot to push both of them through. All of the crew members were able to leave the aircraft and survived the jump. (Lapp & King)
The nose art was a "Rigid Digit" painted by Jack Gaffney. The "Rigid Digit" became a distinctive symbol for the 91st BG after it was introduced by their C.O. Col. Stanley Wray in the winter of 1942.
© COPYRIGHT 91STBOMBGROUP.COM