Old Battle Axe
401st Squadron
Lt. Borgeson's Crew

On A Slow Boat to China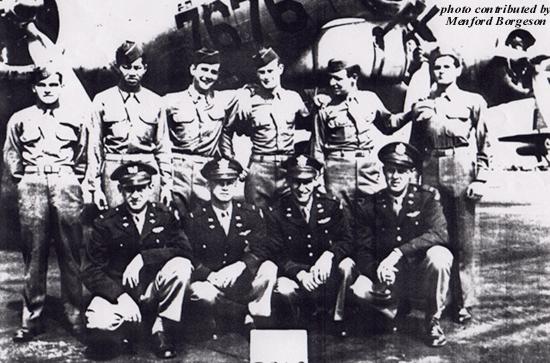 Serial # 43-37887
Back Row - Left to Right
Carl Ducklinsky, Ball Turret Gunner; George Wong, Waist Gunner; Richard Melcher, Tail Gunner; Conrad Lohoefer, Engineer/Top Turret Gunner; Conner Hicks, Armor Gunner; Jack Rubenfeld, Radio Operator/Waist Gunner.
Front Row - Left to Right
2nd Lt. Robert Harris, Bombardier; 2nd Lt. Eugene Johnson, Navigator; 2nd Lt. Clinton Knighton, Co-pilot; 2nd Lt. Menford Borgeson, Pilot.
Photo contributed by Menford Borgeson
Check out high magnification of "Old Battle Axe" in right wing lead.
Old Battle Axe Factoid - This crew flew their missions between 27 November 1944 and 21 March 1945. Most of their missions were flown in the B17G "Old Battle Axe."
Note: George Wong was lost in action over Stendal, Germany on his last mission.
Record of Missions (contributed by Menford Borgeson, Lt. Col., U.S.A.F. Ret.)
| Mission Number | Location | Target |
| --- | --- | --- |
| 1. | Offenburg, Germany | Rail Road |
| 2. | Misburge | Rail Road |
| 3. | Berlin | S. Plant |
| 4. | Stuttgart | Rail Road |
| 5. | Frankfurt | Rail Road |
| 6. | Merseburg | Oil Choff |
| 7. | Engine T.O. | - - |
| 8. | Wittirth | Troops |
| 9. | Bethought | Com. Center |
| 10. | Kossel | Rail Road |
| 11. | Cologne | Rail Road |
| 12. | Coblentze | Rail Road |
| 13. | Cologne | Bridge |
| 14. | Cologne | Bridge |
| 15. | Ingolstadt | Rail Road |
| 16. | Aschaffenburg | Rail Road |
| 17. | Sterkorde | Oil |
| 18. | Cologne | Bridge |
| 19. | Mannheim | Bridge |
| 20. | Berlin | Rail Road |
| 21. | Dresden | Com. Center |
| 22. | Nuremberg | Rail Road |
| 23. | Nuremberg | Elt Ports |
| 24. | Stendal | Rail Road |
| 25. | Leipzig | Rail Road |
| 26. | Heilbronn | Rail Road |
| 27. | Plauen | Rail Road |
| 28. | Dortmund | Cook. |
| 29. | Husla | Benzolo |
| 30. | Dillenbourge | Rail Road |
| 31. | Osnabrook | Rail Road |
| 32. | Oranienburg | Rail Road |
| 33. | Berlin | Rail Road |
| 34. | Plauen | Rail Road |
| 35. | Salesburge | Air Field |
© COPYRIGHT 91STBOMBGROUP.COM