My Baby
322nd Squadron

Come Rain or Come Shine -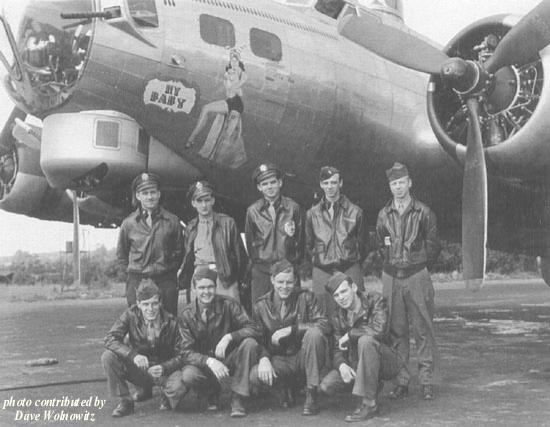 Serial # 42-107033 LG-Z
Back Row - Left to Right:
1st Lt. David McCarty Jr., Pilot (KIA); 1st Lt. Paul W. McElroy, Co-pilot; 2nd Lt. Frank Bolen, Bombardier (POW); 1st Lt. Donald L. Brazdzons, Navigator; Hawes, Radio Operator.
Front Row - Left to Right:
S/Sgt Cecil Seekings, Togglier; S/Sgt. Charles Beebe, Waist Gunner; S/Sgt. Floyd Z. Dillon, Tail Gunner (KIA), Sgt. David Wolnowitz, Top Turret Gunner.
Other crewmenbers: 2nd Lt Ernest I. Austin, Navigator;
My Baby Factoid - Many in the crew were in "The Roxy Special" 43-38348 on September 8, 1944 when it was downed on a mission to Ludwigshaven, Germany.