Mount N Ride
323rd Squadron

Serenade in Blue -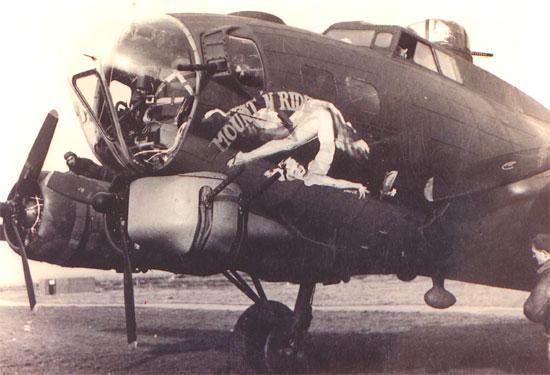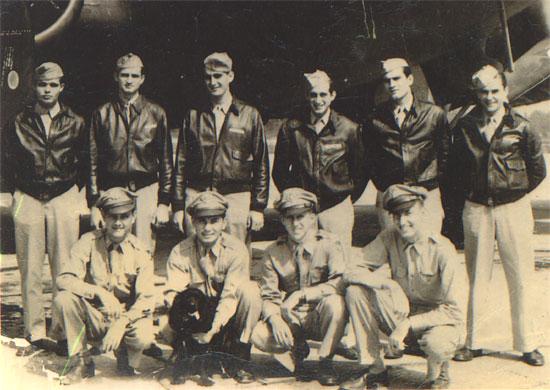 Serial # 231585 OR B
Back Row - Left to Right:
T/Sgt. Hobart P. "Pete" Peterson, Turret Gunner (St. Louis, Missouri); S/Sgt. Lucian "Okie" Wright, Engineer/Gunner (Butler, Oklahoma); T/Sgt. Norman H. Bunin, Radio Operator (Jericho, New York); S/Sgt. Nicholas P. "Nick" Merletti, Waist Gunner Cheshire, Connecticut); S/Sgt. Malcolm E. Brandt, Tail Gunner (Evansville, Indiana); S/Sgt. Robert "Bob" Modell, Ball Turret Gunner (Bayside, New York).
Front Row - Left to Right:
Lt. Doyle E. "Brad" Bradford, Pilot (Tulsa, Oklahoma); Lt. Arthur "Art" Camosy, Co-Pilot (Keokuk, Iowa); "Mickey", Mascot; Lt. Albert T. "Bert" Trendell, Navigator (Syracuse, New York); Lt. Jack Athern, Bombardier (Deer Lodge, Montana).
After the second mission, Lt. Robert "Bob" Mercereau of Long Island, New York replaced Co-Pilot Lt. Camosy who was assigned to another crew and was killed in action.
Mount N Ride Factoid - N/A