Mizpah II
322nd Squadron

Caravan -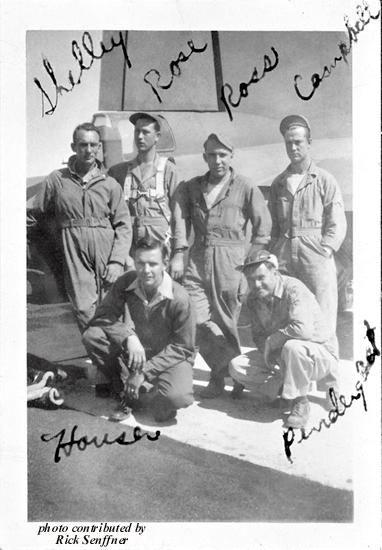 Serial # 41-24497
Back Row - Left to Right:
Charles Shelly, Tail Gunner; Evert Rose; Engineer; Albert Ross, Ball Turret Gunner; Joseph Campbell, Waist Gunner.
Front Row - Left to Right:
Wayne Houser, Waist Gunner; Robert Pendergast; Radio Operator.
Not Pictured
Leonard Anderson, Pilot; Lester Duggan, Co-pilot; Steve Domladovac, Navigator; Clinton Copeland, Bombardier.


Mizpah II Crew Factoid - The crew, listed above of the Mizpah, arrived at Bassingbourn in the fall of 1943. The pilot, Domladovac, and the rest of the crew were killed on a bombing mission to Leverkusen, Germany on December 1, 1943 in a no-name plane # 42-29794. Domladovac, Anderson, and Shelly are buried at the American Cemetery at Neuvill-en-Condroz in Liege, Belgium. The remainder of the crew are buried at the American Military Cemetery in Missouri.
Mizpah II Crew Factoid
The original co-pilot, Lester Duggan, did not fly the December 1, 1943 mission. Instead, Harry Holinger flew as co-pilot. Duggan is also pictured with Texas Chubby (on this site) as the co-pilot.
Mizpah II, also known as the Frisco Jenny was ditched on the afternoon of September 6th 1943 with the crew of 1lt William R Cox aboard. After going around on the target twice at Stuttgart, (Bob) Cox as pilot started to have red lights showing on his gas tasks as they crossed occupied France. He put the B-17 in to a long slow glide from high altitude, and did not let down from the designated altitude, thus violating the flight plan of the mission. I believe the entire 91st group adopted this policy in order to get as far home as possible before ditching. The crew threw everything overboard they could to lighten the load. Flack jackets, .50 cal guns, Bombardier Jim Harlow even threw the bomb sight into the Channel trying to gain a few more yards. They hit the sea a mile or so off the coast of Bexhill on Sea, in West Sussex, Southern England.

Bob put the B-17 down real well in the swell, and the entire crew clambered into the dingys. One inflated and one did not, only partially filling with air. The 5 members aboard the 2nd dingy were in a real plight, with the tail gunner, just out of the hospital the previous day, suffering from hypothermia. They put him aboard the dingy, while the other 4 guys held onto the side, treading water. The dingy that popped out onto the other wing, fully inflated, tried to battle towards them to help, but the waves were too strong, and the cold September waters in the English channel soon began to take there toll on the ailing crew.

The British Air Sea Rescue were so busy that day attending the crews that ditched further out to sea, that no help came to this 322nd crew, relatively close to the shore line. As Bombardier Jim Harlow described to me "I was getting weaker and weaker, after one hell of a mission and then to have to fight for survival in the cold water, with flying clothes on weighing me down - I think I was on my way out. I became very warm and comfortable and things started to become hazy, then all of a sudden, above the crest of a wave came two men in a row boat. Two fishermen who had seen us go in, and rowed out from Bexhill to rescue us, and boy they were a big help. They cried hang on Yanks, and hauled us aboard, the entire crew. The B-17 had sunk by now, and we were on our way to dry land.

Someone from the town brought us a bottle of scotch that will all killed right on the beach, because we considered ourselves off duty at the time. The local newspaper took our picture, and I understand we made the local headlines. We were given warm clothes, and somehow we got back to Bassingbourn soon after."

I think I am right in saying that eleven B-17's went into the channel on that mission to Stuttgart, and all the crews were picked up. A fine testimonial to our own Air sea rescue service here in England. The B-17 Mizpah II was washed up onto shore over the next day or so with the strong currents and tides that are found in that area of the channel. She was then winched on to the beach, and cut up on the spot, and taken away on British 'Queen Mary' aircraft transporters for scrap.

As something of an epilogue, I now have in my possession, a large section of the plexiglas nose recovered by a school boy from Bexhill, who's father was involved in cutter her up, along with some metal valves and fittings from the aircraft. On the 52nd anniversary of the ditching, I arranged to take Bombardier Jim Harlow back to Bexhill, to the very spot where they were brought ashore, and the B-17 scrapped. I also managed to find the original newspaper, and copy the story and pictures from the front page of the paper, and present it to Jim, along with another bottle of scotch from two men who saw it ditch that very day in Sept 1943. In addition, one of the men present, was the son of one of the fisherman who rowed out to pick them up! The fishermen were called D.V .Davies and Captain 'Bogey' Dunk - Sounds like an old English pirate doesn't he !

That was 1995. Sadly, Jim Harlow, a wonderful friend, a survivor of 25 combat missions (including both Schweinfurt missions) who I still miss dearly to this day died in March 1997 in Merritt Island Florida. I was fortunate enough to be able to visit him just 3 days before he died. I still correspond with his widow Mary Lou, and visit from time to time. The fisherman's son has also died since, and also Alf Cave, who furnished me with the parts of the Mizpah II, and watched the B-17 get cut up, as a school boy.

Bob Cox (pilot) still resides in Colorado, and Jim Witter, waist gunner, I believe still lives in Arkansas. Co-pilot Lt. James died in 1996 in Florida, and Top turret gunner Lester Slaich, died in the 1980's,but not before making his own return pilgrimage to Bexhill in the late 1970's.

You may wonder why a guy of 25 years old from England knows all this about a 91st mission of long ago! Well, for anyone who has the excellent video - Memories of the 91st BG - I was the person who did the research for the section on the Stuttgart mission and arranged for the reunion at Bexhill, shown on the video, with Jim Harlow. I also attended the 91st BGMA Tucson, Arizona reunion and met with Jim Witter and Bob Cox, both wonderful guys.

I have a long narrative on tape of Jim Harlow's recollections of that mission and others, and would happily duplicate it for any interested parties reading this on the 91st Web Ring. This goes into more detail on why the 91st BG had two 'guided tours' of Stuttgart that day, when one would have been quite enough for anybody, especially as the 91st BG dropped their bombs on the first run across the target!

Written in memory of Jim Harlow.

Clive D Stevens, Marlborough, Wiltshire, England - May 2001 B17clive@aol.com