Miss Ouachita
323rd Squadron

Serenade in Blue -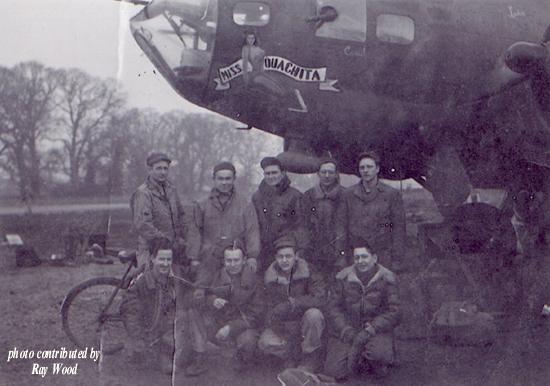 Serial # 42-3040
Back Row - Left to Right:
M/Sgt. Cunningham, Line Chief; Cpl. Newman, Unknown; Unknown; M/Sgt Lyle Cook, Crew Chief.
Front Row - Left to Right:
Sgt. A. R. Ryan; Sgt. A. J. Szymanewski; Sgt. C. Galian; M/Sgt. Rurel Wood, Crew Chief.
We need assistance in identifying these individuals (some are ground crew). Email Jim & Suzi
Miss Ouachita Factoid - The following crew flew their first mission on Miss Ouachita on November 3, 1943 to Willenhaven, Germany. 1st Lt. Charles Samuelson, Pilot & Group Leader for the 323rd Squadron; 2nd Lt. Nenad Kovachevich, Co-Pilot; 2nd Lt. Arthur Lunson, Navigator; 2nd Lt. Edward Kaisersk, Bombardier; T/Sgt. Edwin Walsh, Engineer & Top Turret Gunner; T/Sgt. Roy Ford, Radio Operator; S/Sgt. Vincent Garofalo, Waist Gunner; S/Sgt. Milton Franchuk, Waist Gunner; S/Sgt. Francis Lasker, Ball Turret Gunner; S/Sgt. James Dumouchel, Tail Gunner.
During this first mission, after dropping our bombs and on our way back to England, they were attacked by ME109's at 12 O'clock. It was during this attack that the navigator, Arthur Lunson, was shot in the right arm. The bombardier, Edward Kaisersy, administered first aid to Lunson. Kaisersk called for first aid kits, but only three of the mandatory ten first aid kits could be found aboard Miss Ouachita.
After returning to base, they reported to the interrogation officer that only three first aid kits had been found aboard our aircraft, Miss Ouachita.
On the following day, November 4, 1943, there was an inspection of each and every aircraft on the base to guarantee that each aircraft had ten first aid kits aboard. This inspection revealed that ground crew personnel had been using the first aid kits on the aircraft, rather then going to their own first aid station when a minor injury was substained. Thereafter, as a result of this incident, all the first aid kits in each aircraft were affixed with lead seals to prevent them from being opened unnecessarily.
Lt. Lunson went to hospital to have his arm treated, and was then sent back to the United States.
The first mission was the only mission this crew flew on Miss Ouachita. Six of our missions were flown on Chennault Pappy. They also flew several missions on The Wicked Witch, as well as a variety of other aircraft.
Captain Samuelson and S/Sgt. Dumouchel flew their last mission on June 4, 1944, just 2 days before D-Day. Three weeks later Samuelson and Dumouchel returned home to the United States to complete their military service. Thanks to James E. Dumouchel for this information.
Check this Link: http://www.erik-lind.com/modeling/rev.html
because is provides some information about Miss Ouachita.