Miss America II
322nd Squadron

'C' Jam Blues -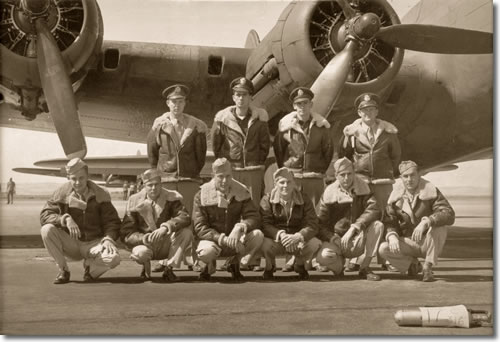 Serial # 42-37738
Back Row - Left to Right:
2nd Lt. Ed Steele, Pilot; 2nd Lt. Bryce Evertson, Co-pilot; 2nd Lt. Bob Emmick, Navigator; 2nd Lt. Fred Wyerts, Bombardier.
Front Row - Left to Right:
Sgt. Gerald Glaze, Ball Turret; Sgt. Jim Lane, Tail Gunner; S/Sgt. Henry Holderbach, Engineer; T/Sgt. George Harris, Radio Operator; Sgt. Howard Thornly, Gunner; Sgt. Elmer Tobias, Gunner.
Miss America II Factoid - Miss America II was shot down on December 22, 1943 while flying to its target at Osnabrook.