Madame Shoo Shoo
322nd Squadron

Katy -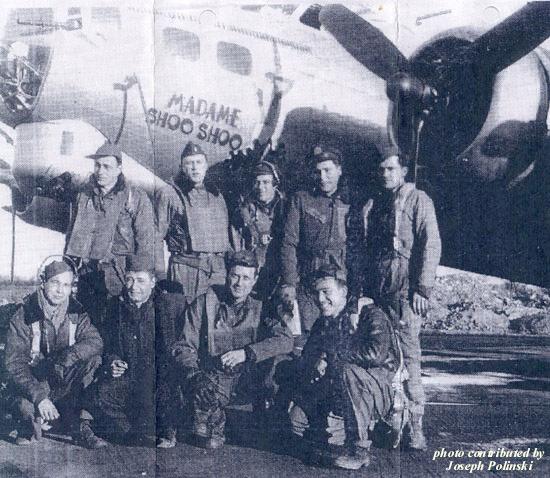 Serial # 43-37707 LG M
Back Row - Left to Right:
S/Sgt. Bernard Kajewski, Bombarier; 2nd Lt Charles Bonner, Pilot; 2nd Lt Kane, Co-Pilot; 2nd Lt Dabpowitz, Navigator; S/Sgt. Joseph Polinski, Flight Engineer.
Front Row - Left to Right:
S/Sgt. Chapnis, Ball Turret Gonner; S/Sgt. Findion, Radio Operator; S/Sgt. Smsler, Tail Gunner; S/Sgt. Tyndal, Waist Gunner.
Madame Shoo Shoo Factoid -Joseph Polinski states his first mission was October 25, 1944 over Frankfurt. His last mission, number 35, was April 13, 1945. Major Marsh wa lead Squadron in Aircraft # 8777. The Target was Newmunster.