Little Patches
401st Squadron

Boogie Woogie Bugle Boy -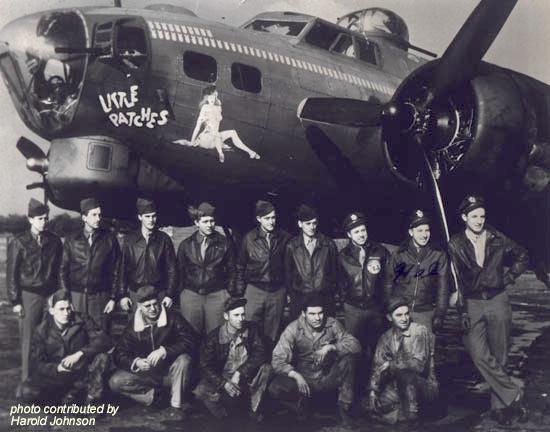 Serial # 42-31678 LL L
Back Row - Left to Right:
B. H. Bova Cummings, Ball Turret Gunner; Charles A. Van Loo, Tail Gunner; Sam W. Harris, Radio Operator; Edward L. White, Waist Gunner; Mark Weston, Top Turret Gunner; George O. Fredrickson, Bombardier; Paul A. Henritzy, Navigator; Harold E. Johnson, Co-pilot; Charles N. "Buck" Buchanan, Pilot.
Front Row - Left to Right: Ground Crewmen
Robert P. Dalton; Ernest V. Pry; George B. Camp, Crew Chief; Charles D. Mooneyham; Clement (first name unknown).
John A. Hassler is not pictured.
Little Patches Factoid - The above photo is quite unique since it pictures most of the personnel and ground crew members. At the time of this photo, Little Patches had logged more than 50 missions.
Flight Log of Harold Johnson (0-709017) - Little Patches Co-pilot
| | | |
| --- | --- | --- |
| Number | Date | Target |
| 1 | 3 Aug 44 | Mulhouse, Germany |
| 2 | 5 Aug 44 | Nienburg, Germany |
| 3 | 6 Aug 44 | Brandenburg, Germany |
| 4 | 9 Aug 44 | Elsenborn, Belgium |
| 5 | 11 Aug 44 | Brest, France |
| 6 | 12 Aug 44 | Buc, France |
| 7 | 14 Aug 44 | Metz Frescaty, France |
| 8 | 15 Aug 44 | Ostheim, Germany |
| 9 | 25 Aug 44 | Neubrandenburg, Germany |
| 10 | 26 Aug 44 | Gelsenkirchen, Germany |
| 11 | 27 Aug 44 | Heligoland, Germany |
| 12 | 5 Sept 44 | Ludwigshaven, Germany |
| 13 | 8 Sept 44 | Ludwigshaven, Germany |
| 14 | 9 Sept 44 | Ludwigshaven, Germany |
| 15 | 13 Sept 44 | Lutzkendorf, Germany |
| 16 | 19 Sept 44 | Hamm, Germany |
| 17 | 27 Sept 44 | Koln, Germany |
| 18 | 28 Sept 44 | Magdeburg, Germany |
| 19 | 3 Oct 44 | Nurnberg, Germany |
| 20 | 6 Oct 44 | Neubrandenburg, Germany |
| 21 | 14 Oct 44 | Cologne, Germany |
| 22 | 15 Oct 44 | Cologne, Germany |
| 23 | 17 Oct 44 | Cologne, Germany |
| 24 | 22 Oct 44 | Primswick, Germany |
| 25 | 2 Nov 44 | Merseburg, Germany |
| 26 | 5 Nov 44 | Frankfort, Germany |
| 27 | 6 Nov 44 | Hamburg, Germany |
| 28 | 16 Nov 44 | Aachen, Germany |
| 29 | 21 Nov 44 | Merseburg, Germany |
30

27 Nov 44
Offenburg, Germany

31
29 Nov 44
Misburg, Germany
32
9 Dec 44
Stuttgart, Germany
33
11 Dec 44
Frankfurt, Germany
34
12 Dec 44
Merseburg, Germany
35
15 Dec 44
Kassel, Germany