Little Patches
324th Squadron

Soft as Velvet -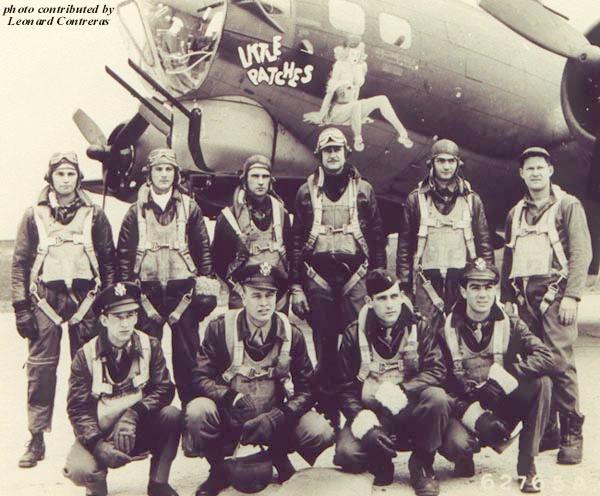 Serial # 42-31678 DF-L
Back Row - Left to Right:
S/Sgt. John Pertuett , Asst. Engineer/Right Waist Gunner; S/Sgt. Earl Doughtery, Ball Turret Gunner; T/Sgt. Rollie C. Hill, Radio Operator; T/Sgt. George W. Parks, Engineer/Top Turret; S/Sgt. Leland Fleming, Left Waist Gunner; S/Sgt. Robert Smith, Tail Gunner.
Front Row - Left to Right:
Lt. Rocky Rasmusen, Navigator; Lt. William Majors, Pilot; Lt. Lloyd Keller, Co-pilot; Lt. Charles Mooney, Bombardier.
Little Patches Factoid - Photo taken May 10, 1944. February 1944, 91st Bomb Group (H) 324th Bomb Squadron, 1st crew of "Little Patches" and this B-17G was transferred to the 401st Bomb Squadron at the end of April 1944 with part of her first crew and Captain Thomas H. Gunn as her pilot.
"Little Patches" got her name because of a flack hole, and when repaired, "Little Patches" was painted sitting on the "Repair Patch".
Another crew with 15 to 18 missions was the Buchanan Crew. August 1944 to November 2, 1944. Crew members were: Buchanan, Pilot Mass; Johnson, Co-Pilot Calif.; Henritzy, Navigator Penn.; Fredrickson, Bombardier Kan.; Weston, Top Turret San Angelo, Texas; Samuel Harris, Radio Operator; Cummins, Ball Turret, W. Va.; White, Waist Gunner W. Va.; White, Waist Gunner NJ; Van Loo, Tail Gunner Ohio.