Lady Lois
324th Squadron
Capt. Arthur's Crew

In the Mood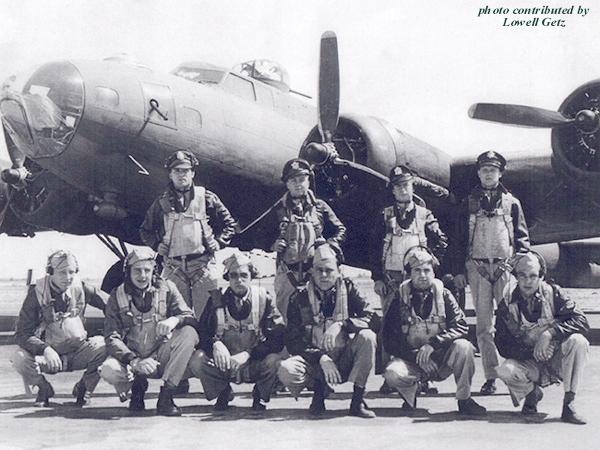 Serial # 43-38220
Back Row - Left to Right
Robert H. Boyd, Navigator; Capt. William H. Arthur, Pilot; John M. Henderson, Co-pilot; William J. Swindell, Bombardier.
Front Row - Left to Right
John P. McCann, Tail Gunner; Jimmy E. Yanzick, Flight Engineer/Top Turret Gunner; Charles Chamberlain, Waist Gunner (transferred before joining No. 220); Charles E. Lee, Waist Gunner; Milton Ehrlich, Radio Operator; Michael J. Sesta, Ball Turret Gunner.
Photo contributed by Lowell Getz
Lady Lois Factoid - The "220" was named "Lady Lois" by pilot Bill Arthur. Arthur named the plane after his wife. The third crew of "Lady Lois" was responsible for renaming the plane to "Little Jean." The crew photo above is not of "220," but an "F" model B-17. The girl painted on "Lady Lois" is the same used on "Little Jean." Only the name was changed.
Note: Charles Chamberlain flew at least one mission, as a fill-in, on Bill Arthur's crew (16 July) with the 91st BG(H). There appears to be no other record of him in the 91st after that mission with Lady Lois.
© COPYRIGHT 91STBOMBGROUP.COM