Hell's Halo
322nd Squadron
Lt. Cox's Crew

Tuxedo Junction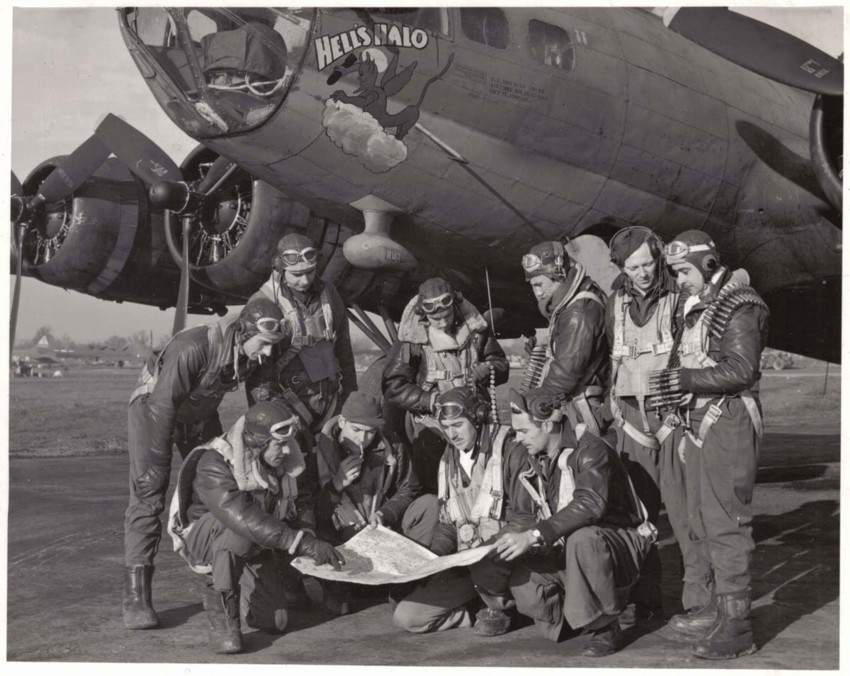 Serial # 42-5804 OR-R
Back Row - Left to Right
T/Sgt. Lester B. Schlaich, Top Turret Gunner, Flight Engineer; S/Sgt. William J. McCrea, Ball Turret Gunner; S/Sgt. Ernest "Ernie" J. Koger, Waist Gunner; S/Sgt. James H. Witter, Waist Gunner; T/Sgt. Kerrane Smallidge (likely), Radio Operator; Sgt. Benedict J. Linnen (likely)
Front Row - Left to Right
2nd Lt. Robert L. Gough (likely), Co-pilot; 1st Lt. William "Bill" R. Cox, Pilot; 1st Lt. James E. Harlow, Bombardier; 2nd Lt. Thomas J. Cannon (likely), Navigator
Photo contributed by Donald Watson
Hell's Halo Factoid - According to Donald Watson (grandson of James Witter), he remembered his grandfather telling him this was a staged photo for newspaper publication back in the USA.
According to James Schlaich, Lt. Cox's crew only flew Hell's Halo on one credited mission. They took off in this plane on a planned mission to Solingen, Germany on 30 November 1943, but were called back due to poor weather. The next day, 1 December 1943, Cox's crew flew Hell's Halo to Leverkusen, Germany. Radio Operator Lawrence O'Neill was on that crew. The staged photo above may have been taken on 30 November 1943 after the aborted mission. The crew manifest was the same for both days. Radio Operator Smallidge completed his first 25 missions on 14 October 1943 (second Schweinfurt mission).
Most of the names and information provided by James Schlaich, nephew of Lester Schlaich.
© COPYRIGHT 91STBOMBGROUP.COM