Heavyweight Annihilators II
322nd Squadron
Lt. Bader's Crew

Don't Get Around Much Anymore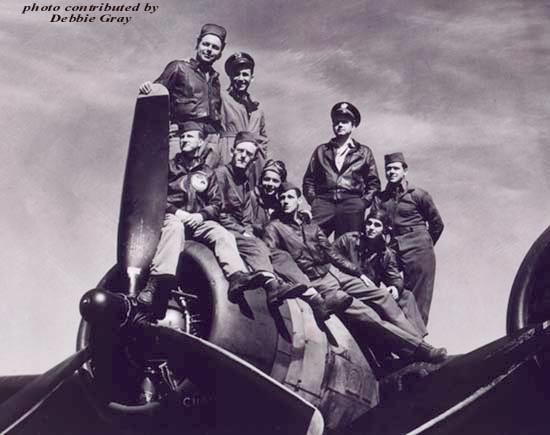 Serial # 42-25712 LG S
Standing - Left to Right
Lt. Don C. Bader, Pilot; Lt. Cavanaugh, Co-pilot; Lt. Jack Adkins, Navigator; S/Sgt. William C. Gray, Waist Gunner/Assistant Engineer.
Seated - Left to Right
T/Sgt. Glen L. Kessler, Radio Operator; T/Sgt. Ernest L. Piepho, Engineer/Top Turret Gunner; S/Sgt. Walter C. Budzisz, Ball Turret Gunner; S/Sgt. Thomas J. Hansbury, Tail Gunner; S/Sgt. Arnold L. Burton, Waist Gunner.
Not Shown: Lt. James "Jim" W. Hensley, Bombardier
Above photo contributed by Debbie Gray
Heavyweight Annihilators II Factoid - This crew flew together from November 1942 to June 1943.
© COPYRIGHT 91STBOMBGROUP.COM