Harass Dragon
323rd Squadron

Begin the Beguine -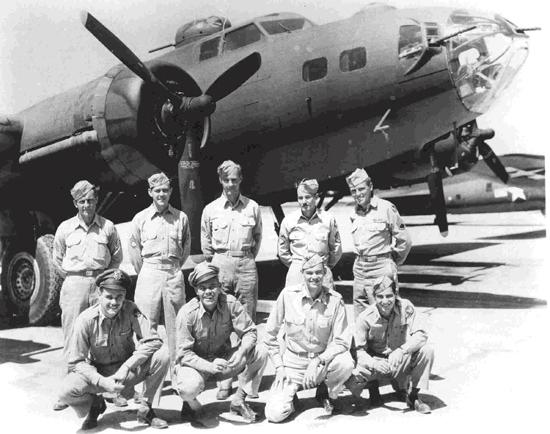 Serial #42-31372 OR P
Back Row - Left to Right:
Sgt. Ernesto Kretchmer, Engineer/Top Turret Gunner; Sgt. Benton Lowery, Radio Operator; Sgt. Arnold Hovey, Right Waist Gunner; John Gustafson, Ball Turret Gunner; S/Sgt Terrell, Left Waist Gunner.
Front Row - Left to Right:
1st Lt. E. R. (Rusty) Reid, Pilot; 1st Lt. Richard (Dick) G. Morgan, Co-Pilot; 1st Lt. John (Jack) B. Haus, Navigator; 1st Lt. George (Shorty) Marghita, Bombardier.
**Note 1: S/Sgt Terrell, Left Waist Gunner who came down with appendicitis the first time they left Grand Island, Nebraska. They diverted to Des Moines, Iowa where Sgt. Terrell went to the hospital for the operation. They returned to Grand Island, and Melvin P Stoddard replaced Sgt. Terrell.
**Note 2: This picture was made at Dyersburg, Tenn. The B-17 pictured was not A/C 42-31372
**Note 3: After this picture was taken, S/Sgt. Anthony W. Czamecki was added to the crew in the Tail Gunner position.
**Note 4: The name of B-17 42-31372 was never officially recorded as "Harass Dragon" / "Malayan Lady." I didn't take part in the discussion about the name.
Harass Dragon Factoid - Edwin R. Reid was the pilot of the crew of Harass Dragon/Malayan Lady. There is a question as to which name the crew used for this B-17 42-31372, OR-P, 323rd Bomb Squadron. This B-17 was assigned to Reid's crew and had a very short combat career being lost on its fifth mission. It was lost on the Oschersleben mission of January 11, 1944, to bomb the Focke Wulf 190 plant at that location. Harass Dragon was one of five B-17s lost that day by the 91st Bomb Group. The 91st was a part of the 1st Division of the mighty Eight Air Force and was the lead Group that day. The entire 1st division was awarded a Presidential Unit Citation for this mission. The following quote is taken from that citation. "The 1st Bombardment Division (H), is cited for extraordinary heroism, determination, and esprit de corps in action against the enemy on 11 January 1944."

On this raid, the Luftwaffe mounted the most intense attacks on the Eighth Air Force since the costly Schweinfut mission. The attacks started as the bomber stream crossed the Dutch/German border. Most of these attacks were frontal attacks with four to ten FW 190s and ME 109s abreast flying right through our formations. Edwin Reid and his crew were crewing the first B-17 to be lost. As the Group approached the target, Harass Dragon's #3 engine was knocked out and would not feather so Edwin Read was forced to drop behind the formation. The Luftwaffe then attacked this single bomber. In the attacks, the main oxygen system caught fire and a hole was blown in the left side of the fuselage. The right stabilizer was shot off. The bail out order was given just as the B-17 went into a hard right spin. Only three of the ten man crew survived and became POWs.

Following is a list of the crew members: (Killed: buried in the Evangelical Church Cemetery at Bad Munder/Deister. Re-interred in Ardennes; initial plot numbers listed.)
Harass Dragon/Malayan Lady 42-31372 MIA 11 January 1944
(P) 1st Lt. Edwin R Reid (Kia) 0-797181 Ardennes D-29-14
(CP) 2nd Lt. Richard G Morgan (Kia) 0-684028 San Bruno, Ca.
(N) 2nd Lt. John B Haus (Pow) 0-682327
(B) 2nd Lt. George Marghita (Kia) 0-673857 Michigan
(1T) T/Sgt Ernest G Kretchmer (Pow) 37268743
(RO) T/Sgt Benton E Lowry (Kia) 15331444 Ardennes D-21-2
(BT) S/Sgt John A Gustafson, Jr (Kia) 14051783 Beaufort, S.C.
(WG) Sgt Melvin P Stoddard (Kia) 32460353 Ardennes D-11-39
(WG) S/Sgt Arnold L Hovey (Pow) 36370430
(TG) S/Sgt Anthony M Czamecki (Kia) 32466895 Ardennes A-43-18

The navigator, John B. Haus, was alive and listed in the 91st BGMA directory
2000, which is our latest directory. His address at that time was: Houston, Texas.