General Ike
401st Squadron
Lt. Goldsmith's Crew

On A Slow Boat To China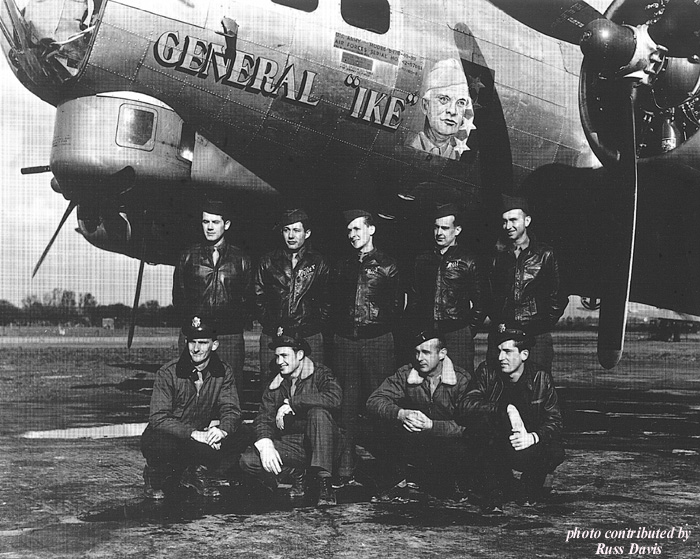 Serial # 42-97061
Back Row - Left to Right
Sgt. Merrel L. Duncan, Gunner, Dundee, MN; Sgt. Hugo A. Miller, Radio Operator, Allen Park, MI; Sgt. Lester F. Umlor, Turret Gunner, Detroit, MI; Sgt. William S. Beavers, Tail Gunner, Chidester, AR; Sgt. John E. Gawley, Engineer, East Orange, NJ.
Front Row - Left to Right
1st Lt. Robert R. (Goldie) Goldsmith, Pilot, Tulsa, OK; 1st Lt. Julius D. Cobb, Bombardier, Massapequa, NY; 1st Lt. Hugh W. Brooks, Navigator, Kootenai, ID; 1st Lt. Charles H. (Chuck) Davis, Co-Pilot, Lee's Summit, MO (1st Pilot effective: 17 Jul 44).
Not Pictured:
Sgt. Frank S. Glenn, Armor Gunner, Turlock, CA
Photo contributed by Russ Davis
General Ike Factoid - Most of these crew members completed 30 Combat Missions together. They arrived in Bassingbourn on July 2, 1944 and completed their tour on January 1, 1945.
© COPYRIGHT 91STBOMBGROUP.COM