Fifinella
322nd Squadron

Blue and Sentimental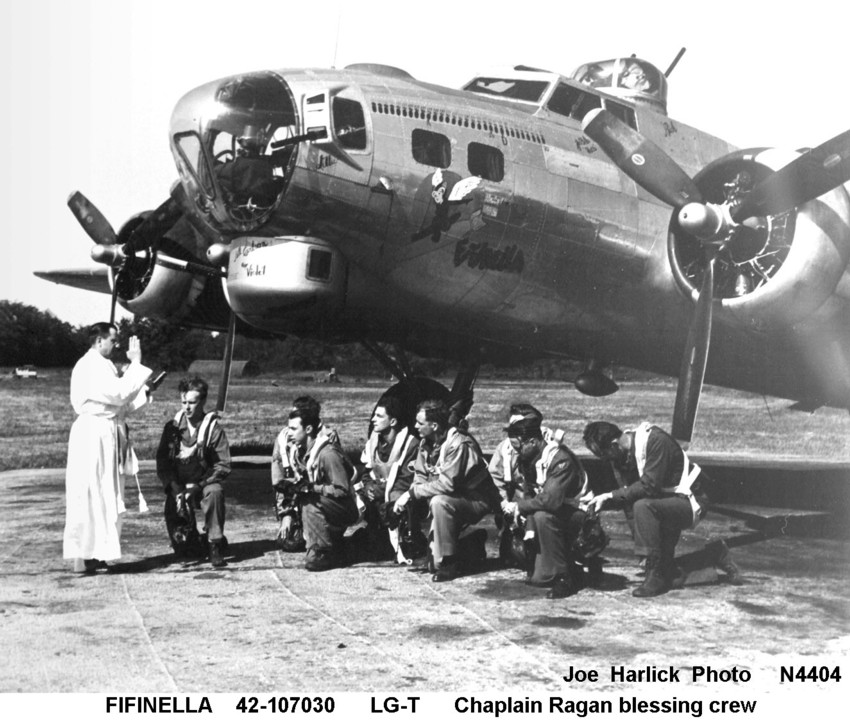 Serial # 42-107030
Left to Right:
Unknown; Unknown; Unknown; Unknown; Unknown; Unknown; Unknown; Unknown
Chaplain Ragan blessing crew
Photo contributed by Charles Sturgeon
Fifinella Factoid - At the time of this photo, Fifinella had already completed about 30 mission.
Fifinella 42-107030/B-17G-35 DL/ 91/322 T LG-T
With an ever increasing demand for combat pilots stretching the Air Force's resources, a decision was made to train women pilots to under-take the task of ferrying the tens of thousands of planes between factories and bases. Initially two units were created in September 1942, the Women's Auxiliary Ferrying Squadron (WAFS) and the Women's Flying Training Detachment (WFTD). After almost a year of political wran-gling these successful organizations were merged into a single formation-the WASPS (Women's Air Force Service Pilots). Walt Disney was approached to design a suitable emblem for the unit, one of several hundred created by the Disney team during the war years. His resulting emblem contained a winged female gremlin figure in flying outfit and it was this motif that was the basis of many nose art design before the formation was disbanded in December 1944.
In April 1944, Tony Starcer based his painting on Fifenella (the name attributed by airmen to the female gremlin!) on the badge worn by the WASPs. A large bomb was added so as to give the impression that the figure, dressed in a red coat and purple trousers, was sitting astride it rather than leaping from the sky, and the dark blue Starcer circle added extra impact. Several other names were added near crew positions written in a fine black cursive script. "Lillie" by the left cheek gun, "Bill Carlson for Violet" on the chin turret and "Pluto" beside the upper turret. These are thought to be the work of Corporal Elvis White, a skilled lettering artist, who painted many of the smaller pieces of lettering on a number of the 91st's aircraft. He is thought to have worked with Tony Starcer on several airplanes painting the finer pieces of script lettering while Starcer concentrated on his renowned and creative artworks.
Joseph Green's crew were the first to take the ship on a combat mission, to Brunswick on 29th March. They flew seven missions in Fifinella, and sustained some severe battle damage on 11th April when flying to Cottbus. The plane was out of action for almost two weeks until the repairs were completed and Green took it to Munich on the 24th April. In mid May the crew of Robert Gerber took over and went on to complete twelve missions but also took some major damage from fighters and flak over Berlin on 24th May and returned with a wounded crew man on 30th May.
David Hanst took Fifinella for one trip on the day before D-Day, 5th June. He noted in his diary "On this one we were supposed to go to France after gun emplacements, actually buzz bomb sites. The 91st form up was disrupted by very heavy contrails and joined formation with another 1st Air Division group. After a few minutes I saw that they were heading for the flak center at Cherbourg and I was not too eager about getting shot up there. Didn't have enough gas for that distance anyway. Finally hooked on to a 3rd Division group (388th), flew diamond in high squadron, high group. We ran into a mess of clouds over France, after two unsuccessful bomb runs we returned to England. Got pretty well potted with flak on the bomb runs."
Fifinella flew 54 sorties before being lost on 13th August 1944 on a tactical mission in sup-port of the Allied ground forces. The target was a railway bridge at Le Manoir, France, and 1Lt Thomas Smith's crew flew the plane as element lead. It was the 16th mission the crew had flown in Fifinella. Just prior to bombs away the ship took a direct flak hit in the cockpit and fire broke out as oxygen bottles exploded and hydraulic fluid fed the blaze. Smith held the plane steady, staying with the formation to bomb, then turning sharply upwards and away before peeling off to the left. In the next four minutes Fifinella dived several times, leveling off between each dive. Two chutes were seen to tumble from the aircraft which went into a steep dive close to the ground before being lost from view.
FIFINELLA 42-107030
MIA 13 August 1944
(P) 1st Lt Thomas P Smith, Jr. (KIA); (CP) 2Lt Joe Vukovich (Evaded); (N) 2Lt Alexander W Calder II (Evaded); (B) 2Lt Robert E Bell, Jr. (P.O.W.); (TT) T/Sgt Charles F Sturgeon (P.O.W.); (RO) T/Sgt Delmar C Spears (P.O.W.); (BT) S/Sgt Jess W Britton (Evaded); (WG) S/Sgt Calvin M Seiler (Evaded); (TG) S/Sgt Leonard Rogers (Evaded).
© COPYRIGHT 91STBOMBGROUP.COM