The Eagle's Wrath
323rd Squadron
Giauque's Crew

I've Got a Gal in Kalamazoo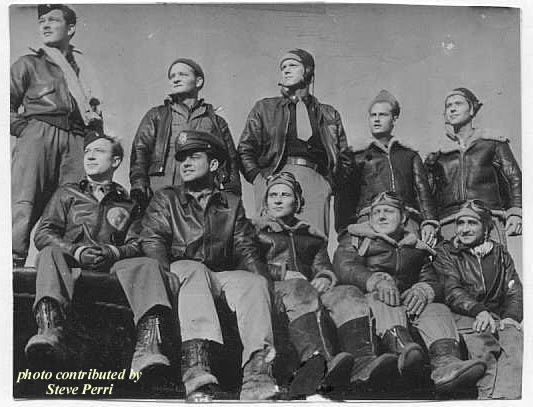 Serial # 41-24524
Back Row - Left to Right
William C. Butler, Bombardier; Lyle L. Taylor, Tail Gunner; Charles R. Giauque, Pilot; James F. Jones, Waist Gunner; Walter W. Wawrzynek, Waist Gunner.
Front Row - Left to Right
Lawrence R. Ott, Navigator; Edward W. Lethers, Co-Pilot; Lloyd L. Mahan, Ball Turret Gunner; Hubert E. Corl, Radio Operator; Keva Sumergrad, Top Turret Gunner.
Photo contributed by Steve Perri
The Eagle's Wrath Factoid - The crew of The Eagle's Wrath was one of the 9 original B-17 crews in the 91st Bomb Group (H) 323rd Squadron that flew from Dow Field, Maine in September 1942.
© COPYRIGHT 91STBOMBGROUP.COM