Delta Rebel (No. 2)
323rd Squadron
Birdsong's Crew

Moonlight Serenade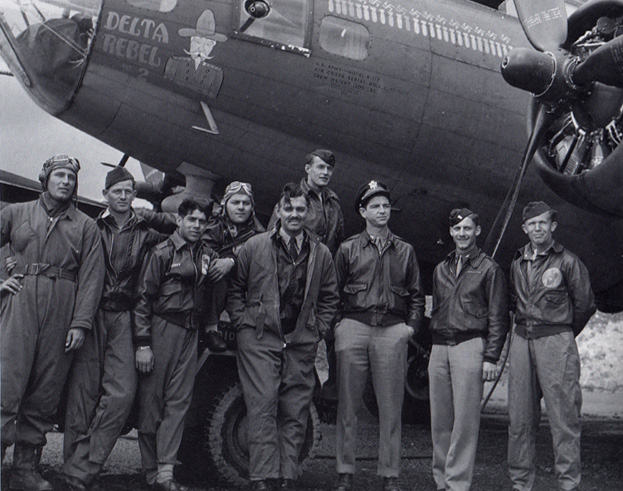 Serial # 25077
Left to Right:
B. Z. Byrd, Radio Operator; Randy Peterson, Left Waist Gunner; Steve Perri, Ball Turret Gunner; Harry Kulchesky, Right Waist Gunner; Clark Gable; Chuck Bennett, Co-pilot; George Birdsong, Pilot; Robert Abb, Bombardier; Robert Card, Tail Gunner
The actor Clark Gable is included in the Delta Rebel crew as he was in the process of shooting the documentary film "Combat America."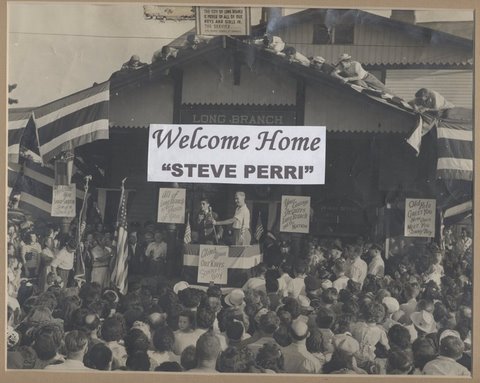 Photos above contributed by Steve Perri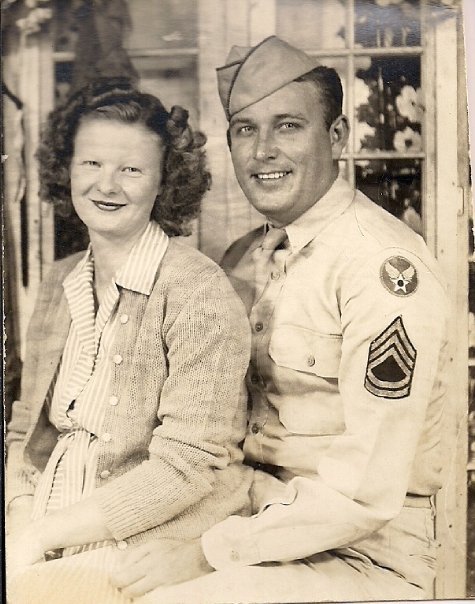 T/Sgt. B.Z. Byrd - Radio Operator 323rd, Delta Rebel (above photo contributed by Mrs. Ulmer)
Delta Rebel (No. 2) Factoid - The Delta Crew had a discouraging setback in September 1942 when our new warplane, "The Delta Rebel", was severely damaged in a taxi accident at Mitchell Field in New York. We were flying a long range cruise control mission from Dow Field over the water to Tampa and back. On the return leg we were diverted to Mitchell because of weather. Transient maintenance, in the process of taxiing the Rebel for dispersal, collided with two other planes, inflicting major damage to all three. We had been assured the spot we had been parked on after we landed okay. Then, after we had secured the plane and departed, the NCO-In-Charge decided to move our plane to another dispersal point. Being unqualified to taxi a B-17F, he failed to turn on the main hydraulic switch with actuated the brake pressure and therefore had no brakes when he tried to taxi the aircraft, thus the bang-up.
We were really "down in the dumps" on our ride in a transport plane back to Bangor. We had taken such pride in our very first Fortess. Soon after we turned, we were assigned a replacement B-17F, tail number 25077, which we promptly named "The Delta Rebel No. 2", with the portrait of an old Confederate Colonel painted on both sides of the nose. We made two test hops, one up to 29,000 feet, to check out the guns and the different aircraft systems and felt we were ready. We departed for the United Kingdom by way of Gander Lake, Newfoundland, and Prestwick, Scotland and arrive in mid October at our new base at Bassinbourn.
Delta Rebel (2) was probably the first B-17F to have a 50 Cal Machine Gun in the nose, mounted by the 323rd Bomb Squadron Sheet Metal Crew and Squadron welders, through the Plexiglas nose. The idea was that of George Birdsong; Pilot of the Delta Rebel (2).
The information in this paragraph provided by Whitmal Hill.


© COPYRIGHT 91STBOMBGROUP.COM