Dame Satan
322nd Squadron
Major Campbell's Crew

Tuxedo Junction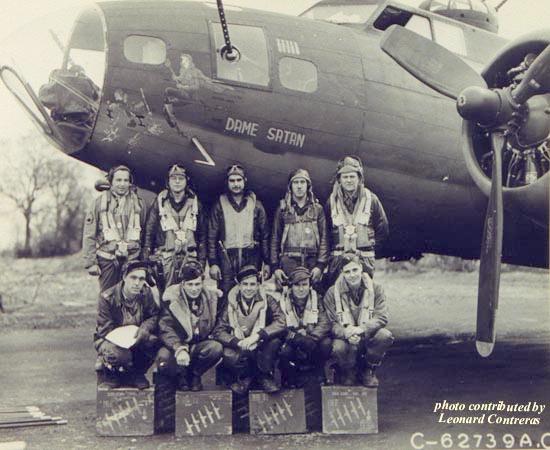 Serial # 42-2990
Back Row - Left to Right
T/Sgt. James La Grossa, Flight Engineer; T/Sgt. Daniel J. Butler, Radio Operator; Leonard Panora; S/Sgt. Thomas A. Parfitt, Waist Gunner; J.C. Bull.
Front Row - Left to Right
Capt. Santura; Capt. James R. Bullock, Navigator; Major Robert B. Campbell, Pilot; T/Sgt. Oliver J. Hackwith, Ball Turret Gunner; 1st Lt. Bernard Priebe, Co-pilot.
Photo contributed by Leonard Contreras
Dame Satan Factoid - The photo above was taken on 21 April 1943.
© COPYRIGHT 91STBOMBGROUP.COM