Chief Sly III
322nd Squadron
Pinning's Crew

Woodchopper's Ball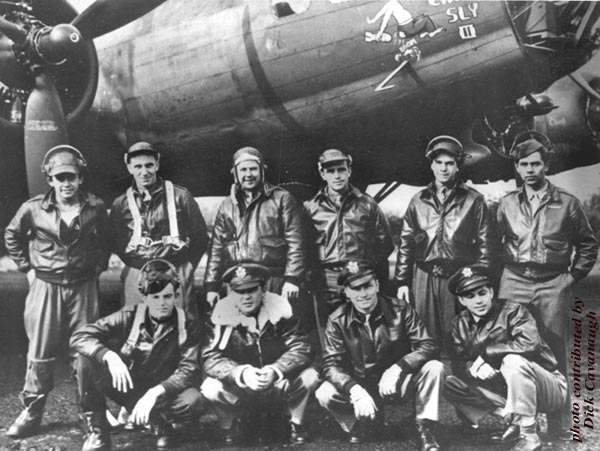 Serial # 42-29711 LG-V
Back Row - Left to Right
S/Sgt. Joseph E. Carrasquillo, Tail Gunner; T/Sgt. John F. Robinson, Engineer & Top Turret Gunner; Sgt. Joseph J. Arasimowicz, Waist Gunner; Sgt. Vincent A. White, Waist Gunner; S/Sgt. Joseph Bielecki, Ball Turret Gunner; S/Sgt. Rudy L. Olaque, Radio Operator.
Front Row - Left to Right
2nd Lt. Edward H. Tomer, Co-Pilot; 2nd Lt. Walter V. Cavanaugh, Navigator; 1st Lt. Charles Bernard Pinning, Pilot; 2nd Lt. Albert Louis Rolnick, Bombardier.
Photo contributed by Dick Cavanaugh
Chief Sly III Factoid - According to Dick Cavanaugh, nephew of Walter Cavanaugh (Navigator on Chief Sly III), this crew did not return from the raid on Anklam, Germany on October 9, 1943. Their plane was shot down that day and there were no survivors. Crew members Tomer, Cavanaugh, and Pinning were buried in Sivo near Denmark in three adjacent graves - in the same left to right order. Dick goes on to say that he has never seen any reference to Chief Sly III. He has read about 'Chief Sly' and 'Chief Sly II' but has not seen anything about Chief Sly III.
The crew members went through training in Dalhart, Texas on July 10, 1943 and were KIA on Oct 9, 1943 over the Baltic sea on a mission to Anklam Germany as a member of the 322nd Squadron of the 91st BG. The above picture was taken sometime between those two dates. There is no name recorded for the plane in which he was shot down on but the serial # was 42-29711. Serial # 42-29711 was transferred from the 94th BG to the 91st on August 29, 1943. In the 94th it had a name of 'Naturals' and displayed a pair of dice on it's nose. Dick's conjecture is that Charles Pinning's crew arrived in Bassingbourn as a replacement crew sometime in late July or early August 1943. Maybe they were assigned the newly received 42-29711 at the end of August and renamed it 'Chief Sly III' in memory of 'Chief Sly II' which was lost on the first Schweinfurt raid on August 17, 1943.
Crew of "Chief Sly III" KIA - Oct. 9, 1943
Charles B. Pinning, Pilot
Edward H. Tomer, Co-pilot
Walter V. Cavanaugh, Navigator
Dale C. Engell, Bombardier
John F. Robinson, Top Turret Gunner
Rudy L. Olague, Radio Operator
Joseph Bielecki, Ball Turret Gunner
Joseph J. Arasimowicz, Right Waist Gunner
Vincent A. White, Left Waist Gunner
Joseph E. Carrasquillo, Tail Gunner

**(A. L. Rolnick did not fly as bombardier on this day due to bumping his head on the bomb bay door. Engell took his place.)

**(R. Wilson did not make the flight as he went off flying status.)
© COPYRIGHT 91STBOMBGROUP.COM