Wee Willie
322nd Squadron

Katy -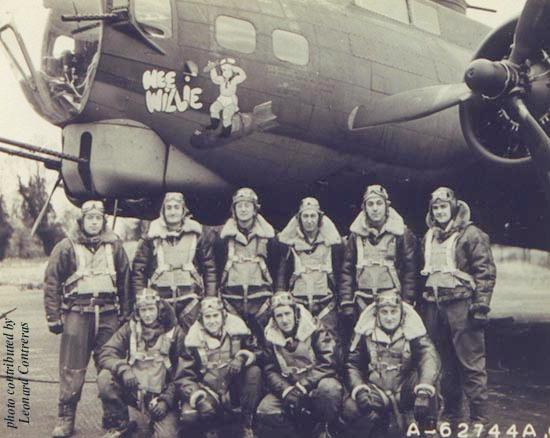 Serial #42-31333 LG-W
Back Row: Left to Right
1st Lt. John A. Moeller, Co-Pilot; 2nd Lt. Harry Lerner, Navigator; S/Sgt. Robert Kelley, Waist Gunner; S/Sgt. Martin, Ball Turret Gunner; Lt. Joe Gagliano, Bombardier; Lt. Paul DuWayne Jessop, Pilot.
Front Row: Left to Right
S/Sgt. MacElroy, Waist Gunner; S/Sgt. Shoupe, Radioman; S/Sgt. Southworth, Flight Engineer; S/Sgt. Joe Zastinchik, Tail Gunner.
Wee Willie Factoid - The pilot in this photo is Lt. Paul Jessop. The photo was taken on February 14, 1944. Wee Willie's last mission was on 8 April 1945. A direct flak hit and tore off a wing. The pilot of this mission was 1st/Lt. Robert Fuller and he survived along with some of the crew. Wee Willie was the second or third from last lost to the 91st durning WWII to be downed in action and was credited with 120 missions. Skunkface III was the last 91st B-17 lost, with the Harry V. Camp crew on board. Shot down by ME-262 Jets on 17 April 1945. Only the tail gunner survived.