Stric Nine
323rd Squadron

String of Pearls -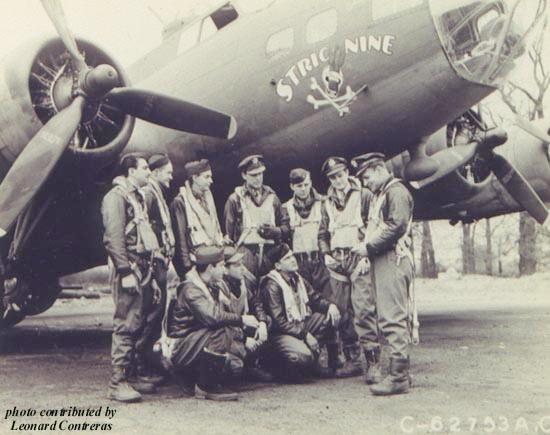 Serial # 42-29475 OR-R
Back Row - Left to Right
Sgt. John Stephenson, Ball Turret; Sgt. Bernard Zimmerman, Radio Operator; Sgt. Herman Blazer, Top Turret; lt. John W. Cheshire, Bombardier; Lt. Richard W. Gill, Navagator; Lt. John J. Bennett, Co-Pilot; Lt. Leland E. Forsblad, Pilot.
Front Row - Left to Right:
Sgt. Harold K. Olson, Tail Gunner; Sgt. John L. Fielder, Waist Gunner; Sgt. Joseph D'Ovidio, Waist Gunner
Stric Nine Factoid - Photo taken July 10, 1943 the day of their mission to Villa Coublay, France. 8 KIA and 2 POW.