REUNION / EVENTS

91st BGMA REUNION
(click here to see photos from the reunion)
May 16-19, 2018
Dayton, Ohio
Please join us at the 2018 Reunion in Dayton, Ohio, in conjunction with the USAF Museum rollout of the Memphis Belle. The Memphis Belle rollout is May 17th and the banquet will be May 19th. Our hotel is the Marriott at the University of Dayton.

Anyone who secures one of the group-rate rooms will be required to fill out the registration form, including registrations fee, and send it to Jody Kelly (njkelly@roadrunner.com) of the 91st BGMA by March 10, 2018. Failure to do so will result in the room being canceled.
April 20th update - - there are No rooms left. If you are associated with the 91st BG or are a WWII veteran and wish to attend, contact Mick Hanou.
Contact Mick Hanou at mhanou@comcast.net if you have any questions.
We look forward to seeing you!

The 91st Strategic Reconnaissance Wing Association Reunion
The 91st SRWA is an extended member of the 91st BGMA
March 8-14, 2018 (Tentative)
Glendale, Arizona
The Luke AFB Open House & Air Show is Saturday March 10th & Sunday March 11th (Saturday & Sunday). Major Activities will "probably" look something like this: Thursday 8th - Arrival, Registration, and Free Dinner (Recommend at least 1 day early arrival); Friday 9th - Board and Membership Meetings (Elections), Socializing; Saturday 10th - Open House and Air Show; Sunday 11th - (On your own Church, Golf, Air Show), Evening BBQ Buffet; Monday 12th - Sight Seeing Tour (Open for Suggestions); Tuesday 13th - 9 to 5 Open for Suggestions, Evening Semi-Formal Dinner; Wednesday 14th - Departure
All Members in attendance will receive, FREE, a copy of We Served With Honor, a 91st SRWA Challenge Coin, and a 91st SRWA shirt (current retail value = $85).
This is the 91st SRWA Challenge Coin.
Contact Jim Bard (JimBardJr@comcast.net) if you are interested in attending

The 91st Strategic Reconnaissance Wing Association Reunion
The 91st SRWA is an extended member of the 91st BGMA
2019 - Branson, Missouri (Tentative)
Reunion Chair - Linda Bromley

2015/2016/2017
ATTENTION 91ST BG SUPPORTERS!!
MEMORABILIA NEEDED FOR MUSEUM
If you would like to Donate any 91st BG memorabilia for the Planes of Fame Air Museum memorial in Chino, CA, such as jackets, uniforms, etc., please let us know. Also, we are looking for a "Silk Escape Map of Europe" to add to the display. We have been donated one map to frame, but would like to have another one in order to show the other side.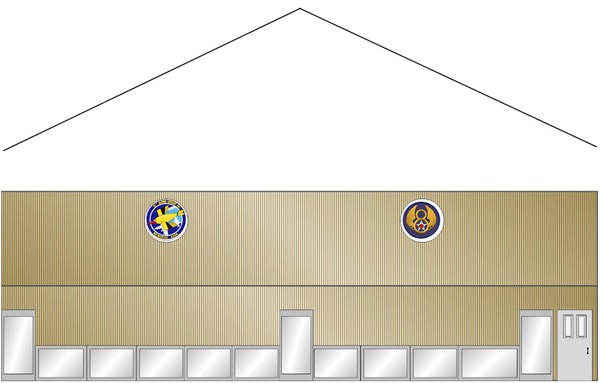 This is a simple drawing to show the size of the 91st BG wall at the Planes of Fame Air Museum. This will be a First Class display; 100 feet wide and 16 feet high. The display will be able to house most of the memorabilia collected in the past 16 years and tell the story of the 91st BG(H).
Please help support the 91st Bomb Group Memorial Association (BGMA) by your donation today. The 91st BGMA is a NON-PROFIT Organization. Click on the donate button below to pay through PayPal with your credit card or you can send a check payable to the 91st BGMA to:
Jody Kelly, 3829 Sunset Ln., Oxnard, CA 93035
Thank you for your support!

Keep checking the web page for updates.
Be a LIFE Member & support the 91st Bomb Group Memoral Association
---

If you would like an application to become a member, contact "Jody Kelly" at 805-984-7706, or Email address njkelly@roadrunner.com
91st Bomb Group Home

91st BGMA Membership

91st BGMA Officers