REUNION / EVENTS

91st BGMA REUNION
October 14-17, 2016
Charleston, South Carolina
Please join us for a wonderful time in Charleston - socializing with old friends, meeting new ones, and learning about the 91st BG with like-minded people.
Registration forms need to be received as soon as possible to assist in planning and definitely need to be returned no later than September 10, 2016.
Some of the scheduled activities include: aircraft carrier Yorktown, Mighty 8th Air Force Museum, an evening banquet, harbor cruise, and Fort Sumter tour.
Contact Mick Hanou at mhanou@comcast.net if you have any questions.
We look forward to seeing you!

2015 & 2016
ATTENTION 91ST BG SUPPORTERS!!
MEMORABILIA NEEDED FOR MUSEUM
If you would like to Donate any 91st BG memorabilia for the Planes of Fame Air Museum memorial in Chino, CA, such as jackets, uniforms, etc., please let us know. Also, we are looking for a "Silk Escape Map of Europe" to add to the display. We have been donated one map to frame, but would like to have another one in order to show the other side.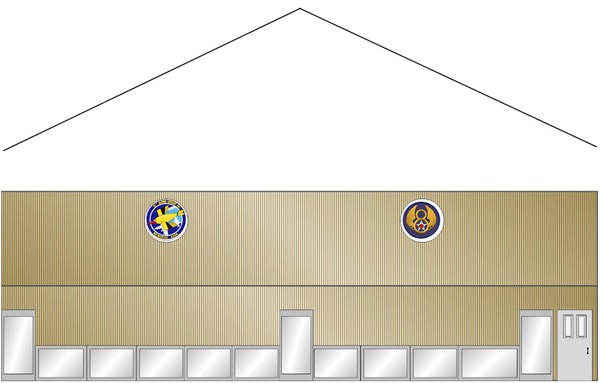 This is a simple drawing to show the size of the 91st BG wall at the Planes of Fame Air Museum. This will be a First Class display; 100 feet wide and 16 feet high. The display will be able to house most of the memorabilia collected in the past 16 years and tell the story of the 91st BG(H).
Please help support the 91st Bomb Group Memorial Association (BGMA) by your donation today. The 91st BGMA is a NON-PROFIT Organization. Click on the donate button below to pay through PayPal with your credit card or you can send a check payable to the 91st BGMA to:
Jody Kelly, 3829 Sunset Ln., Oxnard, CA 93035
Thank you for your support!

Keep checking the web page for updates.
Be a LIFE Member & support the 91st Bomb Group Memoral Association
---

The 91st Strategic Reconnaissance Wing Association.
91SRWA Runion, Omaha, Sheraton, 21-27 August 2013. 22 August - Strategic Air and Space Museum, 23 August - World Famous (Mutual of Omaha) Henry Doorly Zoo & Aquarium, 24 August - Offutt AFB Air Show, 25 August - Casual Picnic Buffet, 26 August - 91SRWA Gala Banquet.
Contact Jim Bard (JimBardJr@comcast.net) if you are interested in attending

The 91st SRW is an extended member of the 91st BGMA.
This is the 91st SRWA Challenge Coin.
www.militaryreunionplanners.com/91st.htm

If you would like an application to become a member, contact "Jody Kelly" at 805-984-7706, or Email address njkelly@roadrunner.com
91st Bomb Group Home

91st BGMA Membership

91st BGMA Officers